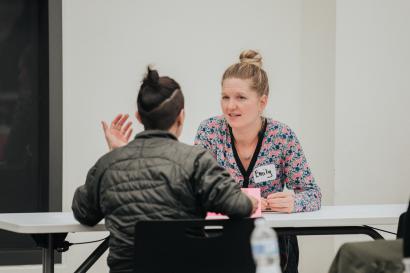 MicroMentor – a platform for entrepreneurs and mentors
Business owners and experienced mentors in Mercy Corps Northwest's MicroMentor community share their knowledge in a flexible manner to meet the needs of your busy schedule.
We are excited to provide quality one-on-one mentoring services through our partnership with MicroMentor, a free social platform that connects entrepreneurs with experienced mentors across the globe.
Whether just starting out, or looking to grow an existing business, the platform offers access to business experts who are ready to help you take the next step. On the platform you will: 
Learn from experienced mentors in more than 50 industries. Our mentors have an average of 7 years of small business ownership and 14 years of management experience.
Tap into specialized expertise from over 5,200 active mentors. Many of the mentors you'll meet have faced and survived crises during their own professional journeys. You'll find their expertise to support you with financial planning, applying for loans and grants, pivoting to new business models, marketing to new customers, and adopting alternative sales channels, and much more.
Gain an advocate for your success. Volunteer mentors dedicate an average of 14 hours per relationship. Many relationships continue for more than a year.
Uncover better access to financing. Research shows that working with a mentor on MicroMentor contributes to entrepreneurs' financial management abilities. In fact, mentored entrepreneurs on MicroMentor are 8% more likely to access financial resources, over their peers.
---