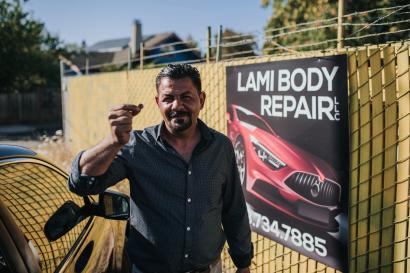 Businesses with 5 or fewer employees make up 86% of all Oregon and Washington enterprises. Small businesses are essential, yet owners face unique challenges and are routinely denied access to conventional lending due to a lack of operating history, credit, and collateral.
Mercy Corps Northwest provides vital financing, mentorship and education to small business owners across the Pacific Northwest. From small business grants, to alternative loans, we're here to support entrepreneurs with the tools they need to succeed. We also host Oregon Women's Business Center, one of its kind in the state, funded by the U.S. Small Business Administration.
Each of our service locations across Oregon and Washington offer a unique set of education and financial services.
Training and mentorship
Our education programs help entrepreneurs learn how to move ideas from concept to reality. We offer instruction on how to manage business growth, overcome new challenges, and how to plan for success. Mercy Corps Northwest offers a variety of workshops and training sessions that are tailored for all stages of the small business journey. Mentors are also available from a range of industries to offer individualized support.
Loans
At Mercy Corps Northwest, we provide loans ranging from $500 to $10,000 with fixed interest rates to small businesses that cannot access loans from traditional institutions. Our goal is to provide money to entrepreneurs in order to grow and invest in local small businesses. We welcome applications from entrepreneurs of color, women, gender non-conforming individuals, veterans, and those who are undocumented. 
Matched savings business grants (IDAs)
When small business owners are ready to multiply their savings and kickstart their growth, grants help make the out-of-reach seem possible. Mercy Corps Northwest offers a financial assistance program built to support low-income entrepreneurs in reaching their savings goals by providing additional funding. An Individual Development Account (IDA) assists entrepreneurs in saving money each month to be paired with grant dollars once savings goals are met to fuel business growth.
---
Find your region to get started
Select the location closest to you to explore services available in your area.
---
Stay up-to-date with our business programs.