Stories from Vancouver – Charlene Ruell of Panache
Charlene Ruell Embodies Panache at the Vancouver Farmers Market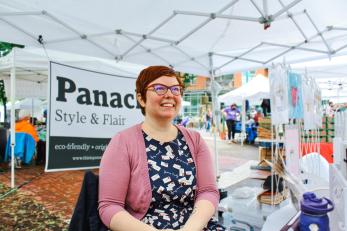 July 06, 2022
Every weekend from the start of spring to the peak of fall, the Vancouver Farmers Market creates community among vendors, artisans, and customers alike from along the Columbia River and beyond. People with kids, pets, and tote bags in tow wander Southwest Washington's main visitor attraction, exploring the handiwork of more than 250 vendors. From one aisle to the next, shoppers can find fresh and local produce, hand-picked flowers, artisanal foods, and spirited crafts like those at Panache.
Since moving to Vancouver, Washington eight years ago, Charlene Ruell (they/them) spent their weeks working in the nonprofit sector, their weekends frequenting the Farmers Market, and time in between was devoted to creative thinking. Charlene shopped the market, mingled, and learned from different booth owners the process to becoming a vendor. Charlene dreamed that one day, they would craft again and become a small business owner, too.
In 2019, their goals became reality when Charlene began selling handmade, eco-friendly whimsical accessories and art in the heart of the Vancouver Farmers Market.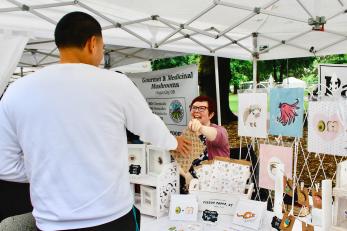 Charlene always considered themself a creative and an entrepreneur; the artistry and know-how was in their DNA. Growing up, Charlene's parents owned a retail gift shop, selling unique knick knacks, while their mother also crafted on the side. She created items like toys–teddy bears made out of recycled fur coats for example–and sold them at holiday craft bazaars with young Charlene as her booth manager. 
At 7 years old, Charlene's mother taught them how to sew. The art was learned on the same sewing machine that Charlene's mom had once learned on when her mother – Charlene's grandmother – had first instructed her, a 1948 Singer Featherweight.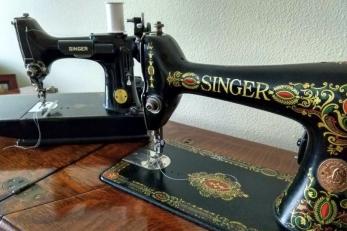 Charlene paused on crafting for some time and brought their education and career to the forefront. From college to pursuing a Master's Degree in Norwich, England, to working for several years in Chicago, Charlene finally returned home to the Pacific Northwest to continue their work in the nonprofit sector. 
In 2019, Charlene faced a breaking point with work where they were simultaneously experiencing depression, anxiety, and trauma. Charlene knew they needed to leave their full-time job and find a positive outlet that not only brought them joy but others as well.
Charlene set out to combine their passion for art and inclusivity–within the LGBTQ+ community and beyond–with their concern for the environment. In turn, Charlene began sketching, designing, and crafting thoughtful, vibrant, sustainable goods for all to enjoy. Cloth coin purses, cord keepers, and scarves made up the first batch of inventory ready to be sold.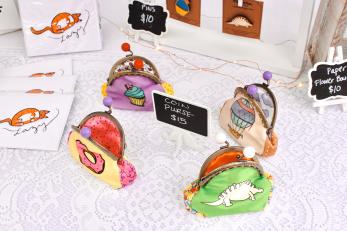 "I left work. I started crafting again, and I wanted to try to get into the Vancouver Farmers Market," Charlene said. "I told myself, if I get into the market, then I'm just going to go for it. I didn't have a backup plan. I didn't have a bunch of money saved. It was something I had to do to get myself out of a terrible situation."
Charlene first tested Panache products at the Vancouver Night Market on a monthly basis to see if the business had potential. Charlene quickly realized that selling items was a bonus to what really mattered to them–connecting with people. 
"Once a month, I put my products out and I could just talk to people," Charlene said. "The social aspect of the market drew me in. It was so enjoyable since I spent most of my time alone at home crafting."
The decision to apply for the Vancouver Farmers Market was clear. After Charlene was accepted as a vendor and began preparing for this new venture, the world was struck by the COVID-19 pandemic. Like most events, the market paused and Charlene took the secluded time to both craft and continue to build their companion business, Panache Consulting. Charlene established a creative consulting arm of Panache when they launched their business in 2019 to offer fellow "solo-preneurs" administrative support, project management tools, and website and graphic design to help other small businesses thrive. With both arms of the Panache business in their first year, Charlene felt the financial impact of 2020. 
Eventually the community reopened for business, and Charlene went back to brightening people's days at the Farmers Market with Panache's pure style and flair. Charlene expanded their product line to also include paper-based items like mini paper flower bouquets and quilled art, as well as original art printed on cards, stickers, and tissue paper. It was a difficult time to expand the business but it felt necessary.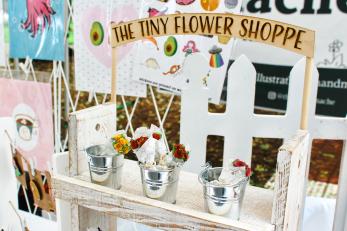 However with perfect timing, Charlene learned about Mercy Corps Northwest's COVID assistance grant program for small businesses in the Southern Washington community. Charlene applied and received a financial boost that allowed them to purchase equipment like a large-format professional photo printer that removed the need for a third-party printing vendor.
An optimistic Charlene jumped on every opportunity that presented itself from with the goal of spreading even more joy via Panache during the holiday season. One new event Charlene participated in was Mercy Corps Northwest's 2021 Northwest Made Holiday Market, an online market that centered more than 100 local women, BIPOC and LGBTQ+-owned businesses and entrepreneurs. The market offered everything from experiences, drinks, as well as arts and crafts, while keeping profits in the hands of the local Pacific Northwest community.
"I enjoyed that there were a ton of different vendors and a nice product variety," Charlene said. "There were a few vendors I recognized from the Vancouver Farmers Market, but a lot of new people and businesses, too, which I always love to see. It's nice learning what everyone is making and marketing."
This year, Charlene is committed to selling at the weekend market until October, followed by making preparations for the holiday market season. Charlene hopes to join a variety of holiday events again; however, the Panache product assortment will be different this time.
Panache's fabric offerings–coin purses, cord keepers, and scarves–are currently on phase out. Charlene was suffering from asthmatic attacks caused by the fibers in the fabric during the cutting and sewing process, leading them to make the difficult decision to finish their current, on-hand fabrics and to only invest in paper materials moving forward. Because of this, the Panache paper collection is expanding and rebranding as Panache Paper Art, and a new item has made its debut: Layered Paper Pins.
"This is the first time I'm making paper pins and I'm super excited probably because it makes my brain work a little harder to figure out," Charlene said. "I basically take my artwork and deconstruct it into all its different components. It's very intricate."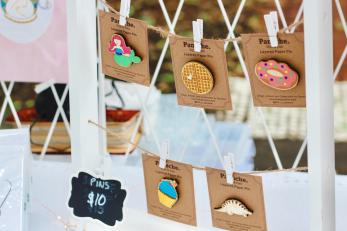 Now with a few years of outdoor vending experience, Charlene has witnessed the highs and lows of working at the Vancouver Farmers Market. Like many, they call it a rewarding challenge. In addition to the weekend market, Panache products can be found online on Instagram, Facebook, Pinterest, and Etsy. 

Mercy Corps Northwest is on a continued mission to help new businesses ease into the Farmers Market scene. This year, Mercy Corps Northwest is partnering with the Vancouver Farmers Market to launch the Market Assistance Program (MAP) to offer small business owners an opportunity to test their products at Vancouver, Washington's largest weekend market for free. For more information and to apply, visit nw.mercycorps.org/MAP. Applications will be accepted through July 2022.
Sign up for our newsletter to learn more
Contact the Mercy Corps Northwest team