Market Assistance Program (MAP)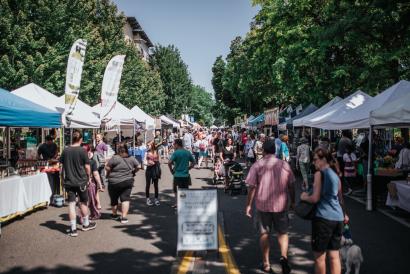 Mercy Corps Northwest and the Vancouver Farmers Market are partnering to launch the Market Assistance Program (MAP) to offer small business owners an opportunity to test their products at Vancouver, Washington's largest weekend market for FREE. The market itself is home to over 200 vendors and acts as home to Southwest Washington's #1 visitor attraction. The program is supported through a partnership with the City of Vancouver and Clark County. 
Applicants must fall under the 80% median income limit for this program. Income limits are based on household size and include income from all members that share finances. 
See if you qualify
In order to be eligible for the program you must meet all of the following three requirements:
Own a business that has a physical location in Clark County, Washington that produces handmade or homegrown products. (Home-based businesses located in Clark County, WA meet the geographic requirements.)

Be a policyholder or willing to purchase event insurance during their tabling dates. Policies will need both Mercy Corps and the Vancouver Farmers Market to the policy for their tabling days. (Staff is available to provide support should you have insurance-related questions.)

 Attend the market on both Saturday and Sunday for their selected weekend.

Meet requirements of being a household with a yearly

 gross income (pre-tax) less than 80% AMI (area median income) as indicated in the chart below. You qualify if your household is at or under the listed income limit for its size:
City of Vancouver, WA median income 2022
Family size                  Income limit
1                                               $59,650
2                                              $68,200
3                                              $76,700
4                                              $85,200
5                                              $92,050
6                                              $98,850
7                                               $105,650
8                                              $112,500
Please note: This income chart changes annually. Household income refers to gross income of the applicant and other members of the household that share financial dependency. The limit is determined by the number of members in the household. 
Available market dates and details
Markets take place weekly on Saturday and Sunday of each week through the months of June-September. 
There may be up to two businesses sharing the Mercy Corps Northwest tent space each weekend. Available spots will be filled on a rolling basis. Applicants will be assigned two weekends, but may be offered additional weekends if any spots remain open as market dates approach.
 A tent, table, and chairs will be provided by MCNW. Each vendor will need to set up their table on Saturday morning and take down their table on Sunday afternoon. You may staff your booth yourself, or hire a person or find a friend or volunteer who you trust to represent your business.
Application timeline
The application will open on May 5th, 2022 and will accept submissions on a first-come, first-served basis until and will close when all spots are filled. Interested applicants can attend a program information session May 26th by registering here.