2021 Northwest Made Holiday Market
Shop from 100+ local women, BIPOC and LGBTQ+-owned businesses starting November 26th 2021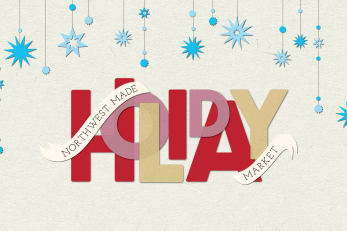 November 16, 2021
Thank you to our shoppers who joined us for our final online market from November 26 – December 31, 2021. The online market centered over 100 local women, BIPOC, LGBTQ+ entrepreneurs. The Northwest Made Holiday market proudly offered everything from experiences, art, drinks and more while keeping money in the hands of our local Pacific Northwest community. 

Read more below to see how you can offer support to a handful of our past vendors year-round.
Buy from women-owned shops
Mercy Corps Northwest is a proud supporter of women-owned small businesses year-round. For 20 years we've served as home to Oregon's only women's business center, with the majority of our clients identifying as women. In this year's holiday market, more than 85 women business owners are selling goodies including pet supplies, beauty and wellness products, and experiences including home-cleaning packages.
Viva La Cactus: Viva La Cactus offers plants and home goods for all. They provide real succulent and cactus arrangements in beautiful and peculiar pots. Their goods include handmade sustainable products, like facemasks, candles, soap and other products made in Guatemala.
Moon Babe Blankets: Moon Babe Blankets was born out of Theola's journey to that "felt like the phases of the moon, waxing and waning, ever-shifting, potent and powerful." Her shop offers artfully designed blankets for babies and little ones – with themes across the zodiac to others offering messages of gratitude. 
Tidy Up Portland: Tidy Up Portland is a woman-run residential cleaning service. They offer easy online booking and green cleaning solutions for the environmentally aware. Their business covers the whole gamut of cleaning needs, from one-time deep cleans, move-outs, and specialty areas like inside the fridge and oven.
Discover products from BIPOC-led businesses
Looking to support Black, Indigenous, and people of color-owned businesses this holiday season? If so, we've got you covered. More than half of all vendors in this year's market are led by locals who identify as BIPOC. Whether you're looking to gift a candle, fitness coach, or delicious treat – our market will help you to find the perfect business to support.
Smitten Tips: Peyton is a watercolor and illustration artist, mom of four, self-taught entrepreneur, and owner of  Smitten Nail Strips. Her products offer an easy nail painting alternative for those who are on-the-go – leveraging her art skills and background.

How Sweet It Is:  Brian and Pilar Vocker are a husband and wife duo that leads the award-winning company 'How Sweet It Is'. They offer a variety of hand-crafted candies including brittle, caramel treats, chocolate bites and gift boxes for the Holidays.

Concrete Met Rose: Concrete Met Rose is a small business that specializes in creating aromatherapy products such as candles, wax melts, and carpet deodorizers. All of their products are made in Salem, Oregon in small batches. Their candles stand out by pairing brand-original scents with hand-designed wax candles.
Support LGBTQ+ entrepreneurs
This year Mercy Corps Northwest offered its first series of Storytelling Grants to LGBTQIA2s+ identifying business owners in Oregon and Washington – offering 6 businesses $1,000 grants. We are proud to be featuring businesses from our community that are led and by queer entrepreneurs, including the businesses below.
Sinister Coffee and Creamery: Sinister Coffee and Creamery is a small woman-owned, LGBTQIA business that specializes in organic woman-grown coffee. They have a variety of blends for all palates – roasting beans to order – to ensure the freshest experience possible.
A1 Fit Coaching: Antonia is passionate about using fitness to educate her clients and enable them for long-term success on their health and fitness journeys. She enjoys helping millennials get strong, lose fat, and navigate pregnancy and postpartum through virtual coaching and templated programs and courses. 
Deep Sea Astrology: Deep Sea Astrology provides personalized astrology services and products to help you access your own innate power. Founded by queer astrologer, author, and folk medicine maker Kelsey Branca, Deep Sea Astrology offers astrology readings, workshops, and astrologically-informed plant medicine to support healing and liberation. Their clients appreciate our practical approach to the planets and translation of ancient wisdom through a social justice framework.
Explore these vendors and many more during the market – LIVE at ShopNorthwestMade.org from November 26 to December 31, 2021.
Sign up for our newsletter to learn more
Contact the Mercy Corps Northwest team