VeeVee Skincare Shop Offers Products that are Kid Tested, and Father Approved
Justin Bryant Sr. created his skincare company out of love for his daughter and son. His shop offers gender-neutral, skin-safe products with minimal ingredients.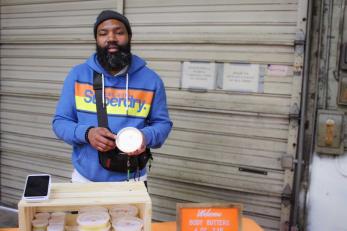 February 28, 2023
Growing up in Pittsburgh, Pennsylvania, Justin Bryant Sr. (He/Him) who goes by Jaybee knew from a young age that he wanted to own his own business. He loved working with his hands but wasn't sure where his career path would lead.

After graduating high school, Jaybee and a friend enrolled at ITT Technical Institute. As kids, they made a pact that whoever moved out of state first, the other had to follow. And in the summer of 2002, his friend took a position with Intel in Portland, Oregon.
Remaining good on his word, Jaybee packed up all his belongings from his childhood home and moved to Portland with $400 to his name.

"I was only supposed to stay for the summer. But I've been here ever since. I haven't looked back," shares Jaybee.

After working a few odd jobs, Jaybee landed his first major role with Nike as a Visual Coordinator, designing visual displays to emphasize key products the large retailer wanted to sell. And after four years in that position, he began his healthcare journey, working in medical billing and coding.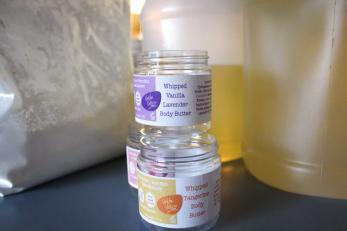 "As far as entering into the realm of skincare, I really started doing it out of love for my daughter because she was suffering from bad eczema," shares Jaybee.
Jaybee's young daughter suffered from a rash that doctors initially attributed to a fungal infection. She was initially prescribed a steroidal cream that caused more damage to her skin.
"They prescribed a cream, and it discolored her skin. It then raised the rash and spread it further. So, I began making two-ingredient products to help with her eczema after she was misdiagnosed," shares Jaybee.
He started concocting a body cream that used only two ingredients, shea butter and tea tree oil. To Jaybee's luck, the cream worked and alleviated her discomfort and rash.
Before experimenting with adding additional ingredients, Jaybee attended some candle-making courses that taught him how to properly work with essential oils at certain temperatures to avoid evaporation. He learned that once the oils evaporate, they no longer provide the full benefits they intend to offer.
In addition to the candle-making courses, Jaybee did an extensive amount of personal research. He frequented Powell's Books, where a staff member guided him toward the book section for essential oils and magic. It was actually a black magic book that taught him how to blend particular scents together.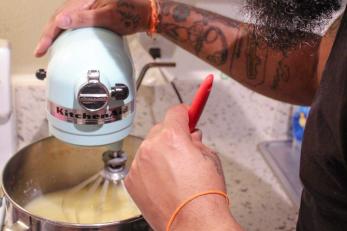 Through his trips to Powell's and guidance from his own dermatologist, Jaybee became more proficient and confident in adding additional ingredients to his body creams, which evolved into his now popular collection of whipped body butters. 
Jaybee turned his creations into a small skincare business known as VeeVee Skincare Shop LLC, named after his daughter, Viyanna.
"The first thing I went after with starting a business was how to get funding. I haven't taken out any loans. My business is self-funded with the assistance of one close investor," shares Jaybee.
When starting off Jaybee sought out courses through Livelihood NW, where he also learned about IDA grant programs and courses offered through Mercy Corps Northwest. He enrolled in the Business Foundations 1 course and Funding Friday seminars.  The Business Foundations 1 course instructed him on the importance of proper accounting practices when starting a small business. Funding Friday seminars taught him about various funding opportunities available in the county and state.
"You think about starting a business and you skip everything else in between. You want success. You mentally think of going from start to success – and it just doesn't work like that," shares Jaybee. "Your accounting piece is so important because, first, that verifies if you have a good product that is going to sell. It also helps you with pricing. It gives you data on the customer and what they're willing to spend."
The Business Foundations 1 course and advice from Livelihood NW helped Jaybee take his products from an idea to a viable small business that thrives within the community. From there, he started making his whipped body butter in 2013 and made his first sale in 2017 as an LLC.
Jaybee does most of his sales at in-person events and markets like the Portland Saturday Market, relying on word of mouth as his biggest form of advertising. 
"My company has been built from word of mouth. From one person telling two people, and two people bring four people, and then before I know it, I have people showing up at the fairs saying 'Hey I follow you and I've been wanting to buy your product,'" shares Jaybee. 
The main product line offered through VeeVee Skincare Shop is whipped body butters that vary depending on customer demand for certain scents and ingredients. In addition to the body butters, he often carries infused oils and body scrubs, and is currently working on creating a full line of men's products. His overall goal with VeeVee Skincare Shop is to provide safe and affordable products to the community.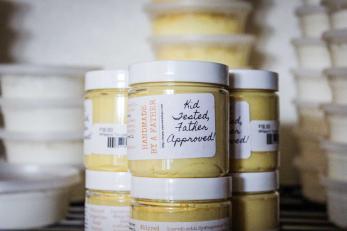 "I want to be a large company that makes gender-neutral, safe products that people can use to help their dry skin. At the same time, I want to be transparent, and not overload them with a bunch of ingredients. Nice and simple," shares Jaybee. "I want to make sure [no matter the size of my company] that the community will still have access to a product that is affordable to treat their dry skin."
When asked what advice he would give to someone looking to start their own small business, Jaybee shared this wonderful sentiment: "Stay loyal to your vision and don't chase trends. Follow your dream, don't let anyone alter that, only let them contribute to your path," he says.
To shop for VeeVee Victoria products online and keep up to date on upcoming in-person events, visit their website or buy them directly from their Esty shop. VeeVee Skincare Shop products are also currently sold in Portland at Homegrown Apothecary and all Tender Loving Empire locations.  Outside of the Pacific Northwest, you can also find his products at My City Prints in Jaybee's hometown of Pittsburgh, PA. This month he will also be launching his product line on Amazon.
For more information on courses offered through Mercy Corps Northwest visit nw.mercycorps.org/events.
Sign up for our newsletter to learn more
Contact the Mercy Corps Northwest team