Oregon small business education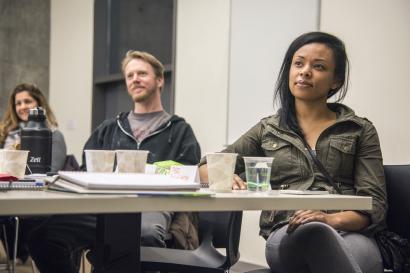 Explore our classes and trainings
Our seminars are offered to fit differing needs, with classes running from several hours on a single day, to over the course of several-weeks. Anyone looking for business support can register and attend these offerings.  Learn more below or view all Oregon WBC events here.
One-time classes
We regularly hold seminars that provide a deeper look at a specific topic. Each week, presenters lead sessions on a wide variety of subjects including business strategy, marketing, small business taxes, financial literacy, digital media, human resources, and access to capital.
Multi-week classes
Our popular multi-week classes offer extended business support for growing and expanding enterprises. These courses are designed for entrepreneurs at each stage of their business journey to tackle challenges, plan for the future, and grow successful companies.
Business Foundations 1: This essential six-week course covers the necessary basics for launching a small business. Topics covered include marketing, cash flow operations, business registration, credit and many other essentials for success in the first year of business. Our interactive format empowers students to apply concepts learned in class directly to their business.
Business Plan Workshop:  Over the course of five weeks, you'll take your business plan from draft to completion with the help of an instructor and a small group of peer entrepreneurs. As a hands-on workshop, students are required to have a digital or print version of their business plan to work on in class. All attendees  receive a basic template to make sure they are set to go.  This course is best suited for individuals who have completed Business Foundations 1 and requires 3-4 hours of homework each week to research, write, and refine your business plan.
Rebuilding Your Foundations: This class is designed for business owners who pivoted business operations and incurred losses in customers and revenue during COVID-19 closures. It is designed to help entrepreneurs understand opportunities to rebuild, strategies for pivoting operations, and a plan for next steps. Attendees receive support and guidance to help them adapt and rebuild a stronger, more resilient business model. This five-week course is best suited for individuals whose business was established by December 2019 and not intended for startups.  
One-on-one consulting
Every month, we bring experts from different key business fields to offer one-on-one guidance to small business owners. Consulting sessions are prioritized for entrepreneurs who have previously completed one of our business education offerings and those with an active loan at Mercy Corps Northwest.
---
Start your education journey
Explore the classes that meet your needs below.
---
Other helpful resources
Still looking for support? These resources can help you get started. 
Orientation
Each month we hold an orientation that reviews all of our Oregon and Vancouver-based programming. We welcome anyone to register for this event, free of charge, to help you get started on the right path. 
Scholarships
We offer income-based scholarships for individuals with limited financial resources. Submit an application before registering for class and save up to 50 percent on tuition.
---
Resources for entrepreneurs.
See if you qualify for a scholarship.
---
In 1988, the SBA established The Women's Business Center Program to better help women overcome continuing barriers to success. Today there are Women's Business Centers in almost every state. Mercy Corps Northwest is proud to host the only Women's Business Center in the state of Oregon, located in Portland. The Oregon Women's Business Center at Mercy Corps Northwest is funded in part through a Cooperative Agreement with the U.S. Small Business Administration (SBA).