Daphne's Botanicals Blossoms in Downtown Portland
An AAPI women-owned hybrid business is in the making, plants included.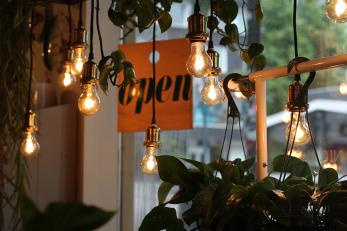 June 07, 2022
Most afternoons, you can find Daphne Peters in Redux Collective's shop window, caring for her plants while helping customers find the best foliage for their spaces. From banking to botany, Daphne left her finance career in the concrete jungle that is New York City almost a decade ago for a lush new life in the Pacific Northwest where her fervor for flora began.
Daphne developed a plan for her small business, Daphne's Botanicals, during the unsettling onset of the COVID-19 pandemic. Isolating at home became the world's reality, and houseplants served as her escape. Caring for each plant was her daily meditation. The beauty and diversity of each species brought her joy. With all the positive energy flowing through Daphne's home from her plants, she set out to share this newfound peace with the greater community. Not only did she want a business that sold greenery, Daphne wanted to arm her clients with the tools and the know-how to help each plant thrive.
She took this idea and began her business as an online plant shop and virtual design service platform, and then in 2021, she transitioned to an in-person store by joining Redux Collective at 811 East Burnside #116.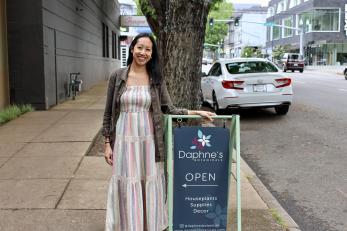 Owned by Tamara Goldsmith, Redux Collective offers small retail spaces within its larger brick and mortar to like-minded artisans and collectors to help jumpstart their small businesses. In addition to offering people a hands-on, low-cost retail opportunity, Collective members have access to Tamara for financial, merchandising, customer care, and other small business mentorship. 
"The Collaborative has been a great way to start up," Daphne said. "I can get the retail business experience without working all the shop's hours and I have a mentor with me who has been in this industry for 17 years. All the logistics you don't always think about when starting out, Tamara knows off the top of her head."
Daphne's Botanicals is not your average garden store – in partnership with her husband, Austin Peters, Daphne has created a plant shop that doubles as a houseplant design service with a concierge shopping experience. Plant owners can pop in for on-the-fly care tips or schedule a full design consultation for their unique space. From homes, to weddings, businesses, and events, Daphne "creates spaces that foster and encourage expression of individual authenticity and creativity."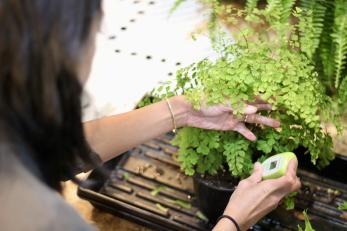 With Tamara's mentorship on the shop floor, Daphne's business has also benefited from her prior experience supporting small business owners in the financial realm when she worked for the City of New York and launched a corporate alliance program. In Portland, she got involved as a board member for Mercy Corps Northwest's Women's Business Center (WBC). During her five years on the board, she supported various Mercy Corps events and workshops, and similar to Tamara, she offered aspiring entrepreneurs general business advice to help move ideas into action. 
"It was great being a part of a group of like-minded entrepreneurs on the [WBC] board and part of the Mercy Corps staff," Daphne said. "I just really liked being involved in the organization's mission."
Now as a small business owner herself, Daphne's involvement with Mercy Corps has evolved to her participating in the events she once helped activate. In 2021, Daphne's Botanicals joined the Northwest Made Holiday Market where she sold plants and accessories through an online marketplace centered around women, BIPOC, LGBTQ+ entrepreneurs. As her business grows, Daphne plans to continue to participate in local happenings.
Shortly after attending a different Portland market as a guest rather than a vendor, the Golden Evening, a new seed was planted for Daphne's Botanicals. The botanist met baker Geleen Abenoja, the owner of pop-up bakery Shop Halo Halo – a hub for specialized baked goods and desserts featuring Filipino and Asian-Pacific flavors. After a few months of weekly conversations, the two business owners decided to join forces. This year, Daphne is slated to close shop at Redux and partner with Geleen on the opening of a bakery-plant hybrid business in the Southeast Woodstock neighborhood. As far as look, feel, and offerings, the new shop will be designed as a true ode to the owners' Filipino roots.

"I was adopted from the Philippines and am proud of being from there, but since I grew up in Minnesota with my Panamanian mom and father from the Midwest, I haven't resonated with the Filipino community as much," Daphne said. "Opening this shop is a step toward exploring a missing piece of my identity. I'm not quite sure what's going to come of it, but I'm hoping it'll open parts of me that have been a big question mark."

In tandem with her personal goals for this next venture, Daphne's business goals are in full bloom as well. Alongside the hybrid shop, Daphne and her husband developed and recently patented a soil moisture indicator product called, PlantDoc. This fan-favorite gardening tool is used to gauge water moisture in a plant's soil––green signals the plant has enough water, and white means it's dry. In the coming months, Daphne and Austin hope to expand the PlantDoc business into wholesale.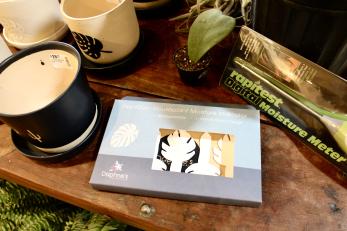 The year ahead will be action-packed for Daphne and her business. She and Geleen will continue to work toward their shop dreams, and hope to open by the holiday season. Financially, they are looking for support and have started a donation platform to fundraise for new bakery equipment and the general build out of the bakery-plant shop. Interested donors can give here and follow their progress through social media.
You can learn more about Daphne's Botanicals and visit them online by heading to their website at daphnesbotanicals.com.
Sign up for our newsletter to learn more
Contact the Mercy Corps Northwest team