Become an AmeriCorps VISTA site host
Mercy Corps Northwest VISTA members oversee projects that build the long-term capacity of their communities through financial education, job skills training, business and economic development, affordable housing, services for the homeless, food security, and disaster preparedness. VISTA members exclusively perform indirect service which means interaction with clients will be limited and the member will spend the majority of their time in an office setting. However, hosting a VISTA offers your organization project management skills, program support, and capacity building for community focused projects.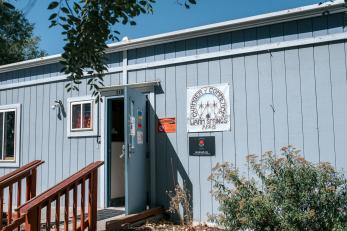 Placement locations
VISTA members serving with the Mercy Corps Northwest cohort are placed in different non-profits around Oregon and Washington State. Most positions are located in the Portland Metro Area, but a few are located in Washington and Central Oregon. All sites must hold 501(c)(3) status, be a tribal or governmental entity, or be a non-profit educational institution.
Next request for proposals date
We operate two recruitment cycles. Our Request For Proposal (RFP) is typically released September 1 and due mid-October for sites that will commence in mid-March. Another RFP is opened February 1 and due by April 1 for sites that will commence in mid-August.
If you are a qualified agency with a project focused on economic development, housing, job skills training, asset building, or other community eceonomic development initiative and are interested in developing a VISTA project for your organization, we welome you to contact us. Please find additional information at the bottom of this page. 
VISTA host qualifications
Potential partnering organizations must be one of the following:
Public, private, or faith-based nonprofit organization (must have 501c3 status)**
Local, state, or federal agency
Tribal government
**For-profit entities—even those that are active in the community and/or are designated as a social enterprise—are not eligible to apply for a VISTA. 
VISTA projects must focus on expanding economic opportunity and alleviating poverty through one of the following program areas:
Housing access and affordable housing
Homeless Services
Workforce development and job training
Microenterprise
Asset development (including IDA programs)
Financial literacy
Community development initiatives
Disaster preparedness
Additional requirements:
Organizations must have a focus on fighting poverty in the community as VISTAs are not to be used for the purposes of providing general services; they may only focus on poverty alleviation
Organizations will be asked to clearly demonstrate how their proposed VISTA programs address systemic rather than immediate needs
Sites must be willing to follow all federal regulations concerning the VISTA program, one of which is a prohibition on members performing direct service
Members cannot replace staff or fill a position that was recently vacated by staff
Host organizations must provide a physical office location, substantial supervision, adequate organizational infrastructure, and all materials necessary to completing the VISTA project
Most years, we require a cash match of between $7,000 and $9,000. We endeavor to keep our match as low as possible while ensuring a high-quality experience for our members.
It's essential that potential organizations read and consider the regulations that govern our activities. These policies are firm and cannot be changed for individual circumstances.
Benefits of hosting a VISTA
AmeriCorps VISTA members serving with the Mercy Corps Northwest cohort receive several benefits including a living allowance, an end of service benefit in the form of an education award of $6,195 or a cash stipend of $1,800—their choice, and a $4,000 MCNW supplemental benefit. We also offer VISTA program training and peer support during their year of service. Each year, VISTA members collectively house 919 individuals, raise nearly $1 million dollars for their nonprofit site, and build over 250 community partnerships. 
Contact us

Brittany Mabry
AmeriCorps VISTA Program Manager
(503) 896-5708
bmabry@mercycorps.org