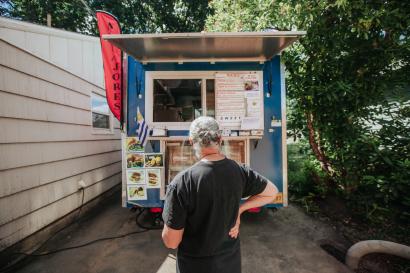 Mercy Corps Northwest's loan program was established to fill a lending gap in the financial sector. Small businesses – particularly those owned by marginalized entrepreneurs – are frequently unable to secure the money they need to grow their business due to lack of access. We proudly serve businesses owned by entrepreneurs of color, women, gender non-conforming individuals, and undocumented entrepreneurs with loans ranging in size from $500 to $10,000 to help answer this challenge.

The goal of Mercy Corps Northwest's loan program is to serve underfunded communities by providing capital to small businesses that are often excluded from traditional financing options. Our program works with both startups and existing businesses to serve the needs of business owners at different points in their journey.

Our team is happy to work with people who are experiencing less than perfect credit, unable to qualify for loans at other institutions, and who are new to the lending process. Ultimately, our loans help clients to bridge the lending gap. Once a client has paid off a loan in our program we aim to connect them to the financial mainstream where they can continue to build and grow their assets.

Each year business owners across industries, skillsets, and lived experiences come through our doors to land a loan that can help to build their credit, grow their business, and move toward the next step on their journey of business ownership.

In total, MCNW has disbursed over 600 loans totaling more than $7 million since 2003.
---
Meet one of our loan recipients
---
Take the next step
The process to landing a loan is simple. Review our loan page, see what's right for you, then submit your expression of interest to kick off the application process. 
Explore our loan products to see which is right for you.

 Funded in part through a Cooperative Agreement with the U.S. Small Business Administration.