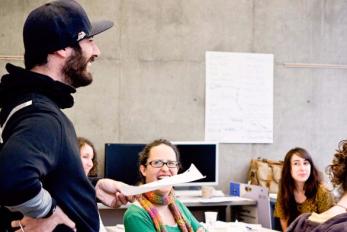 Session overview
This class is only open to individuals whose businesses are physically located in Clark, Cowlitz, or Skamania counties in Washington. The cost of  this class is covered by local funders and supporters of Mercy Corps Northwest's Southern Washington Office
Business Foundations 1 takes you along the small business journey from idea to owner. You will discover what it takes to explore the potential of your idea and start your operation.
Starting a business can be a great way to bring in extra cash or to make a living doing something you enjoy. Mercy Corps Northwest makes it easier to learn the basics of starting and operating a small  business through our Business Foundations 1 class.
The six-session series provides discussion, tools, and guidance on the following topics:
Week 1 – Introduction to Business: Learn about the different business structures, how to register your business, how to create an elevator speech for your business, and how to track your spending.
Week 2 – Start – Up Cost and Credit:  Develop your Unique Value Proposition, determine the start up cost for your business, and learn about credit.
Week 3 – Overhead Cost and Focus Groups:  Complete an overhead cost sheet for your business, conduct an analysis of your competition, and define what a focus group is and when it can be beneficial.
Week 4 – Market Analysis: Deepen your understanding of market research, your target market and competition, pricing strategy, and how to best leverage some free market research tools.
Week 5 – Marketing  and Product Pricing: Continue to understand the value of market research, your target market and competition, and pricing strategy. In this session you will begin incorporating aspects of the business plan to put into practice.
Week 6 – Profit & Loss and Developing a Business Plan: Discuss the importance of the Profit & Loss Statement and learn how a complete business plan is developed.
By the end of week 6 students should have a better understanding of:
How to decide if a business idea will work
How to get the word out and attract customers
Figuring out how much money you'll need to start it, and to keep it going from one month to the next
The steps for registering your business with the state
Learning how you can best use your valuable time and resources
Tell a clear and compelling story when people ask, "What do you do?"
Who is this for?
Business Foundations 1 is for people with limited time and money, and great ideas. No prior business experience or education is necessary, and the class is designed to help you determine if you're ready to start a business.
Details
Times: The course consists of six three-hour sessions. Class is held in an online classroom every Wednesday from 5:30pm- 8:30pm on the following dates.
October 11
October 18
October 25
November 1
November 8
November 15
Registration policy
Registration closes on Monday, October 9th at 12:00 pm. Once the event registration is closed, you will need to wait for the next offering in order to register. We cannot accommodate late registrations.
You will receive a follow up email with conferencing details no later Monday, October 9th.
To cancel your registration please submit a request to southernwa@mercycorps.org prior to the webinar or consultation date
Reasonable accommodations for persons with disabilities will be made if requested at least two weeks in advance. Contact southernwa@mercycorps.org
What can you expect?
People who have taken Business Foundations discover that it's a fun, easy way to learn about business ownership and a great way to find support right here in our entrepreneurial community. Here's what other aspiring entrepreneurs had to say after completing the class:
"Hearing others and sharing helped give me the confidence I needed to move forward."
"I really liked having a plan–having the combination of the course book, homework, and class was perfect–it made an overwhelming prospect much more manageable. I was able to mull things over and be prepared for class—which always address questions that came up for me–even if I wasn't the one asking. The whole format and instruction was incredibly valuable."
"This class was so supportive and empowering!"
Event registration