Is business ownership for you?
Business Foundations 1 takes you along the small business journey from idea to owner. You will discover what it takes to start your operation and explore the potential of your idea.
Starting a business can be a great way to bring in extra cash or to make a living doing something you enjoy. Mercy Corps Northwest makes it easier to learn the basics of starting and operating a small  business through our business foundations I class.
The six-session series provides discussion, tools and guidance on the following topics:
Week 1 – Introduction to Business: Learn about the different business structures, how to register your business, how to create an elevator speech for your business, and how to track your spending.
Week 2 – Start – Up Cost and Credit :  Develop your Unique Value Proposition, determine the start up cost for your business, and learn about credit.
Week 3 – Overhead Cost and Focus Groups: Define what a focus group is, complete an overhead cost sheet for your business, and conduct a competition analysis.
Week 4 – Market Analysis: Understanding market research, your target market & competition, pricing strategy & free market research tools
Week 5 – Marketing  and Product Pricing: Continue to understand market research, your target market & competition, and pricing strategy. In this class you will begin incorporating aspects of the business plan to put into practice.
Week 6 – Profit & Loss and Developing a Business Plan: Learn how to develop and business plan and discuss the importance of the Profit & Loss Statement.
By the end of week 6 all students should have a better understanding of:
How to decide if a business idea will work
How to get the word out and attract customers
Figuring out how much money you'll need to start it, and to keep it going from one month to the next
The steps for registering your business with the state
Learning how you can best use your valuable time and resources
Tell a clear and compelling story when people ask, "What do you do?"
Who is this for?
Business Foundations I is for people with limited time and money, and great ideas. No prior business experience or education is necessary, and the class is designed to help you determine if you're ready to start a business.
Details
Times: The course consists of six three-hour sessions. Class is held in an online classroom every Friday from 5:30 p.m. – 8:30 p.m. on the following dates:
July 1
July 8
July 15
July 22
July 29
August 5
Reasonable accommodations for persons with disabilities will be made if requested at least two weeks in advance. Contact training.mcnw@mercycorps.org.
Scholarship applications must be submitted a week (7 days) before the beginning of class. If you intend to use a scholarship for this program, please apply here. All attendees using a scholarship must wait to register until their scholarship application has been approved either by phone or email after it is submitted. 
Small Business Loan program
Good news! Completion of business training prequalifies you for a $1,500 loan. Please note: This class may qualify you for the IDA grant program outside of Mercy Corps Northwest. Our organization is not enrolling new IDA members. To find an IDA provider, visit https://oregonidainitiative.org/
Registration policy
Registration closes three (3) days before each course. Once the course registration is closed, you will need to wait for the next offering in order to register. We cannot accommodate late registrations.
Clients must complete all sections of the prompted questionnaire to successfully register for each course. If you do not complete the entire questionnaire, your spot will not be reserved. If you need assistance registering, please contact Training
To cancel your registration please submit a request to Training one week (7 days) prior to class start date.
For Refunds and Frequently Asked Questions, please visit  Oregon Women's Business Center Classes & Events Frequently Asked Questions
What can you expect?
People who have taken Business Foundations discover that it's a fun, easy way to learn about business ownership and a great way to find support right here in our entrepreneurial community. Here's what other aspiring entrepreneurs had to say after completing the class:
"Hearing others and sharing helped give me the confidence I needed to move forward"
"I really liked having a plan–having the combination of the course book, homework, and class was perfect–it made an overwhelming prospect much more manageable. I was able to mull things over and be prepared for class—which always address questions that came up for me–even if I wasn't the one asking. The whole format and instruction was incredibly valuable"
"This class was so supportive and empowering!"
This event is proudly hosted by Oregon Women's Business Center at Mercy Corps Northwest, funded in partnership with the U.S. Small Business Administration.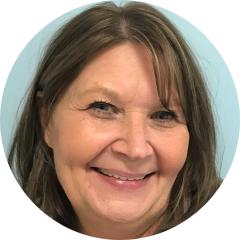 She/Her/Hers
Kari Morrison has one basic philosophy to life and business is the golden rule of "treat people in the way you would want to be treated." She is currently a consultant for Mercy Corps Northwest's L.I.F.E. program and teaches courses as part of Oregon Women's Business Center.  Kari is
Event registration