Startup 101: What you need to know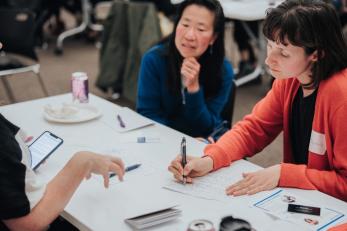 June 29, 2021
Despite all the challenges of the past year, it turns out that 2021 just may be the ideal time to start a business. History demonstrates that economic recessions tend to be followed by periods of growth, prosperity, and enhanced opportunity. As we emerge from the pandemic, interest rates are at a historic low, and the shift to e-commerce, online platforms, and remote work practices brought about by the pandemic is allowing employers to access talent — and customers — wherever they find them. Still hesitant to take the plunge? Below we're sharing a few steps to guide you along your path to becoming a business owner.
Do your research and hone your elevator pitch
Every business begins with a great idea. You probably already know what you want to sell — but how you'll sell it is a whole different story. That's where research comes in. Taking a look at market trends, competitors' business practices, and consumer behaviors will help you optimize your overall business strategy and zero in on your target audience. And that will lead you to your unique selling proposition (USP), the thing that sets you apart from the competition. By the end of our six-week Business Foundations I course, you'll have conducted market research into your competitors, developed a solid elevator pitch describing your unique selling proposition, and started thinking through how to brand and market your business.
Choose your business structure
Registering your business is easy: First, you'll need to apply for an EIN (Employer Identification Number) with the IRS, a simple (and free!) process that you can usually complete online in a matter of minutes. Next, you'll want to register your business with the Oregon or Washington Secretary of State, another quick online procedure. But before you do, you'll need to decide what kind of legal structure is right for you — corporation, partnership, or limited liability company. Our 50-minute 1:1 legal consultations are a great way to think through your entity formation with the help of an expert who can explain the legal implications of different business structures. You can also use the consultation time to ask general questions on related legal topics like trademarking and intellectual property.
Evaluate your finances
Now that your business is official, it's time to do a deeper dive into your business (and personal) financials. Our Master Your Credit seminar will help you take charge of your finances, understand how credit scores are calculated, and learn how to improve your own credit score, if needed. Building a strong relationship with your banker will help you take advantage of the right funding opportunities, and organized record-keeping will allow you to keep track of your cash flow and expenses and stay on top of your business taxes. 
Understand potential risks
From pandemics to natural disasters, any business venture comes with its fair share of risks. But while you can't predict, you can certainly prepare. Our Disaster Preparedness Toolkit, housed on our RISE e-learning platform, will help you develop a business contingency plan tailored to your specific business needs. And purchasing the right business insurance is among the most important steps you can take to protect yourself. Professional liability insurance policies protect you from claims of negligence, product liability insurance policies insure against lawsuits due to damages caused by your product, and property insurance covers business equipment, inventory, and furniture. 
Create a business plan
The single most important thing you can do to set your business up for success is to invest time and energy into your business plan. A solid business plan will outline everything we've talked about above, as well as allow potential investors to understand your long-term business strategy. Writing a business plan is often the most daunting part of opening a business, but it needn't be. Our five-week-long Business Plan Workshop is designed to help you take your business plan across the finish line. 
Learn more about Mercy Corps Northwest's business development services in your area.
---
Sign up for our newsletter to learn more
Contact the Mercy Corps Northwest team