10 years later – How Marshall's Haute Sauce continues its spicy legacy
From social worker to culinary guru, Sarah Marshall (she/her) has created a nationally known hot sauce brand that leverages seasonal produce to showcase the flavors of Oregon one bottle at a time.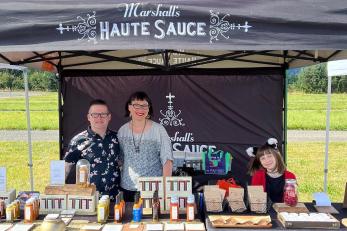 January 18, 2023
With her husband Dirk, and daughter Adeline by her side every step of the way, Sarah Marshall (she/her) of Marshall's Haute Sauce has solidified her name in the hot sauce market with her uniquely spicy concoctions. A social worker by trade, Sarah began cooking and canning produce as a hobby. It was an outlet for the often-overwhelming nature of her chosen profession.
 
"I started making these sauces and everybody that I worked with wanted me to make them for everything. And the parents I worked with wanted me to teach them how to make them," she says.
 
It became increasingly evident that she had a knack for culinary creativity and teaching others how to cook and can.
 
Over 10 years ago in 2011, Sarah wanted to change the trajectory of her current career path but wasn't sure what her next steps would be. She enrolled in the Business Foundations 1 class offered through Mercy Corps Northwest to help guide her through the small business ownership journey. In the course, she learned how to start a small business from her very own kitchen, how to obtain all the required certifications, and identify the amount of product she would need to sell in order to be profitable.
 
The class confirmed her desire to sell her creations and teach others the art of cooking and canning. Over the years Sarah returned to Mercy Corps Northwest to expand her business expertise through seminars and classes that matched her needs as her business expanded.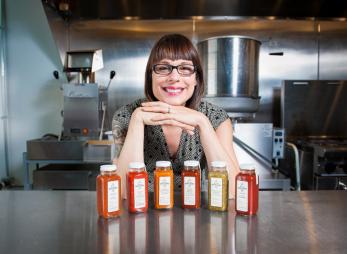 For the first 10 years of their business, the majority of Marshall's Haute Sauce's sales had come from in-person events like local farmer's markets. But Sarah's spicy concoctions perked the interest of Heatonist in 2019, a New York-based company that offers hot sauce subscriptions and curates the popular YouTube show Hot Ones. They initially placed an order of a few thousand bottles of hot sauce for their brick-and-mortar locations. But as the pandemic began shutting down storefronts, they shifted their order to a request for 10,000 bottles to offer as part of their subscription service.
As the hot sauces went live on the site customers were instantly attracted. When Heatonist listed Sarah's specially created 'Birdseye Charred Chive Dulse' hot sauce, it instantly sold out. From there, the Portland-based small business was asked for an order of 8,000 additional bottles.

"They had to change their model a little bit, I had to change mine a little bit. I knew it wouldn't be permanent but I'm thankful for it. It saved my business," shares Sarah.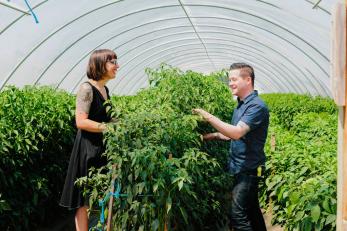 Larger orders meant needing a larger kitchen and production space. Marshall's Haute Sauce slowly graduated from it's first 700-square-foot kitchen, to a resented and shared commercial kitchen space, finally landing in its forever home in the Marshall family's newly bought residence with a certified commercial kitchen.
 
The uptick in orders also meant a need for more employees. But just as many other businesses experienced during the pandemic, outside employees had to be reduced, which left Sarah and her husband Dirk to handle the thousands of orders themselves.
 
After the large Heatonist order, the couple took on an additional wholesale order of 15,000 bottles that Sarah and Dirk worked 20 hours a day to complete. They packed and wrapped all of their own pallets of sauce in the driveway in order to get the job done.
 
"That's how we survived the pandemic. That was our pivot. We just made a lot of sauce ourselves, and I won't do it again. I dislocated my fingertips from putting on too many lids, it was terrible. It was a wild ride, but we did it," shares Sarah.
 
The pandemic was one of the biggest hurdles Marshall's Haute Sauce had faced since its creation in 2011. Up until that point, 70 percent of its yearly revenue was generated from holiday sales and in-person events. 
"Even though we've survived, we're still recovering," Sarah shares.
 
Although the shutdown created many obstacles for her business, it also pushed her to pivot their business plan to accommodate new ideas and techniques that have helped them thrive in the future.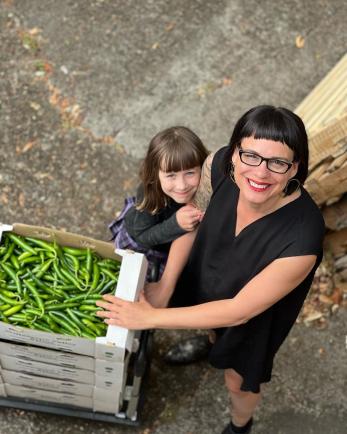 Marshall's Haute Sauce isn't the only business in the Marshall household. Sarah's daughter Adeline, who is only 9 years old, has her very own business aptly named Adeline's Bunny Puffs. 
 
The business sells freeze-dried fruit and candy alongside her family's hot sauce at the farmer's market. Adeline often emphatically chimes in when her mom is chatting with customers to let them know, "I have my own business, too."
 
In addition to the new products being created during the shutdown, Sarah also began to utilize social media platforms to grow her customer base.
 
Dirk handles the business' social media and films Sarah as she produces and packs their products, which has also expanded into them producing videos showcasing recipes that utilize their sauces. They have also joined a new platform called Kittch, where she receives sponsored work, leading to an increase in their reach to potential customers.
Now that in-person events have become a regular occurrence, Sarah has resumed offering in-person canning classes and private hot sauce tastings at their home. The special offerings can be booked through AirBnB Experiences. This is one of Sarah's favorite aspects of her business because they get to know people and connect with them, with the added bonus of feeding them good food.
"It makes us become part of people's vacations when they visit here in Portland. We really try to connect with people individually by meeting our customers and knowing them and becoming part of their stories and their lives and their journey," shares Sarah. 
As part of their classes and tastings, they also get to introduce travelers, whether locals or from afar, to the abundance of seasonal agriculture offered in Oregon. One of their main goals with Marshall's Haute Sauce is to support local, family farms that are often women-owned.
In addition to this, the Marshalls grow their own herbs and spices for their hot sauces on the quarter acre of land their home sits on. They dry their spices in the same freeze-dryer they use to produce Adeline's Bunny Puff products.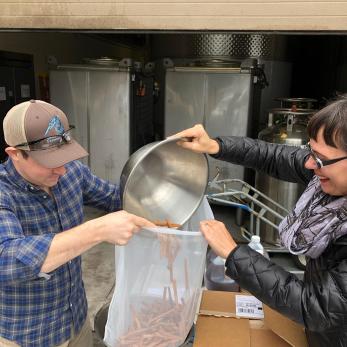 In May 2020, Sarah released a book called Preservation Pantry, which guides readers through the process of canning and preserving produce. The book teaches consumers how to preserve the scraps often thrown away, like carrot tops and apple cores, to make 100+ unique and delicious recipes. 
And as if this plethora of projects wasn't already a wonderful indication of Sarah's success, she even has a podcast with Sarah Masoni called The Meaningful Marketplace where they interview women business owners in the food and wine industries. The podcast is an extension of her work in Les Dames d'Escoffier – a culinary group in which she mentors various businesses on the art of the pitch and how to set them up for success at their first food shows.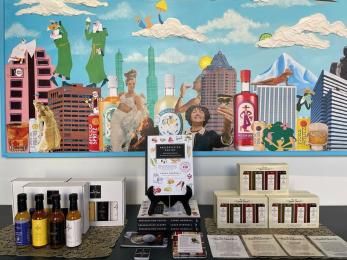 When asked if she has any future plans to expand her business, Sarah shares this very special sentiment: "This is where we want to be. At this level, at this stage, manufacturing just enough to provide for our family and to keep our business going. So as long as there aren't any other huge changes in the world, I think we've shown we can make it work."
To support Marshall's Haute Sauce and Adeline's Bunny Puffs, you can purchase their products by visiting their website. And be sure to follow their Instagram and Facebook pages for upcoming events.
For information regarding small business courses offered through Mercy Corps NW, visit our events page at nw.mercycorps.org/events.
Sign up for our newsletter to learn more
Contact the Mercy Corps Northwest team