Meet Ramona Johnson: The entrepreneur behind Suited for You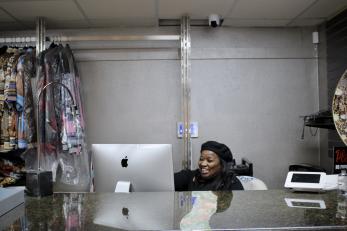 December 09, 2020
Ramona Johnson sits behind the counter of her store, Suited for You, recalling the days of living as a young Black girl in her thriving Black neighborhood. As a fourth-generation Portland resident, Ramona proudly shares her relatives' stories and her vow to continue their dynasty in Portland as a Black business owner. 
In the historic Albina neighborhood, Ramona's family made a name for itself. On North Williams Avenue, her uncle, Manly M. Baltzegar, owned a studio and worked as the city's first Black photographer. A few blocks down, Ramona's grandfather owned a restaurant. Across the street, her aunt lived next door to the former Cleo-Lilliann Social Club, the well-known mid-century, Black entertainment locale, also listed on the National Register of Historic Places.
"It's heart-wrenching to remember as a young girl how many Black businesses were here and how many Black people were here," Ramona said. "You see how everything changed to where you barely see any African Americans like it used to be. It feels good to have my own store now that sells things that are part of our heritage and to know that I'm helping bring it back."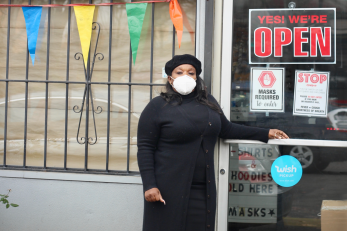 A challenging path
Down the street from where she grew up, Ramona opened Suited for You in 2019 directly amidst the exciting hubbub of Northeast Martin Luther King Jr. Boulevard. The store is located within the Portland Observer plaza, the African American-owned, family-run local newspaper. The building owner handpicked Ramona out of a sea of applications for the desirable location after hearing her story and all she overcame in life. 
Ramona's path to Suited for You had its challenges, as did becoming an adult in a city that was rapidly growing with her. Through it all – drug addiction, an aortic aneurysm, her father's passing, a business mistake – Ramona said her community, especially her mother, saved her. 
"My mother wanted us to be successful and never hang with the wrong crowds. She always gave us the finer things in life and was a good example," Ramona said. "When I got older and got into trouble, I started thinking about where I came from and who I really am… She is my anchor."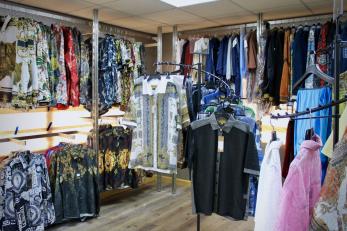 Support from Mercy Corps Northwest
The mother-of-five herself was determined to bring her vision to life of building a successful apparel and wellness store right at home. However, since Ramona obtained the store space, the world was met with the COVID-19 pandemic which has since affected every facet of society, including individual lives, small businesses and beyond. Ramona felt the financial strain of 2020 and needed assistance to help make Suited for You a reality. 
Fortunately for Ramona and others in similar situations, Mercy Corps Northwest launched a grant program in July for Black-owned small businesses to assist in recovering from the brunt economic impact of COVID-19. Since applying for and receiving the funds, Ramona sees progress in her business efforts for the first time ever.
"I don't like to play the 'poor me' game, but there are a lot of obstacles in the way for Black and brown entrepreneurs, especially right now," Ramona said. "The grant was a blessing that inspired me, and after I got it, it was all action. I thought, 'you got something to get moving with now; figure it out.' I was ready to make the store fit me and my image."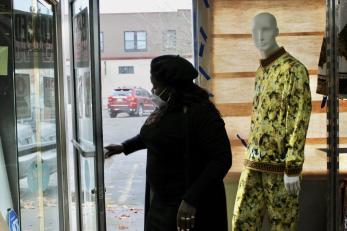 Style and wellness
Ramona's plan of action included loading a U-Haul truck with outdated inventory she purchased the year before, donating it to those in need through Volunteers of America, and beginning store renovations to make way for her newly ordered merchandise.
Suited for You is on its way to becoming a boutique for everyone looking for an "urban, suave look" for church and other special occasions. Currently, the store is stocked mostly with men's clothing—vibrant dress shirts, elaborate matching sets, neutral suits, elegant overcoats—in addition to wellness beverages. "I don't just want people to look good, but to be up on their health, too," Ramona said. She plans to eventually integrate women's accessories, such as purses, jewelry and hats like "the big orange ones we like to wear for church." The store will also offer a layaway option for customers who need financial flexibility.
Today, clientele trickle in to say "hello" to "'Mona," repeatedly noting how different the space looks in a matter of weeks, all in preparation for a projected grand opening in early 2021. Fresh paint and chic merchandise adorn the walls, a new computer sits at the checkout counter, a sanitation station and floor stickers promoting socially distanced shopping meet folks as they enter. 
As for continued ambitions within her community, Ramona—recipient of the Woman of Empowerment 2020 award by P.O.W.E.R., the Professional Organization of Women of Excellence Recognized—wants to eventually begin a nonprofit sector named Suited for Work.
"Suited for Work would be for when people are getting out of jail, treatment centers or bad situations of homelessness—when they come out of these places with nothing—I would like to be able to supply them with clothing like slacks and shirts, and also a class on how to interview for jobs well," Ramona said. "Everyone who wants to recover can, they just need help."
Suited for You is located at 4747 Northeast Martin Luther King Jr. Boulevard in Portland, Oregon. Currently, customers can visit Ramona and shop retail by appointment only while store renovations are underway, and COVID-19 is an increasing risk. Appointments can be made by contacting Ramona directly by call/text at (503) 863-4986.
---
Sign up for our newsletter to learn more
Contact the Mercy Corps Northwest team