Inspired by tradition – PDX Empanadas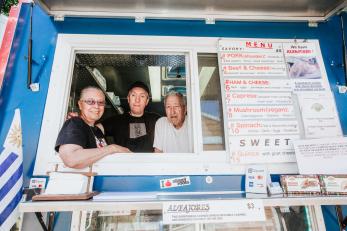 November 01, 2019
Inés Berón and Walter Rodríguez left Uruguay during a financial crisis in South America in the early 2000s in search of new opportunity. They landed in in Worcester, Massachusetts where the large South American community of empanada eaters slowly assisted in growing her hobby into a business. Then 2013 crept up, and their daughter convinced them to join her on the West Coast by moving to Portland – where a food cart culture was thriving. They took a gamble and moved to the other side of the country.
"I was 52 years old, close to 53, when I moved to the U.S.," says Inés. "At this stage of our life, when we started researching for jobs here, it was very hard. We decided to start in Portland with a business that had already brought us success in Worcester. I had been making empanadas for friends, families, reunions – whatever – and they loved the empanadas. So I started little-by-little here to see what was best," she says.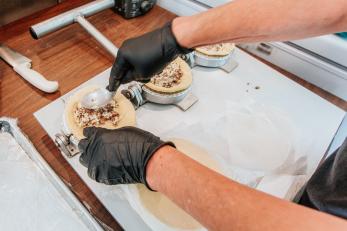 Securing a spot at the Portland market
At first they were an alternate cart at the Portland Saturday Market that lines the city's waterfront. Less than a year later, in 2014, they managed to secure a permanent place. Ines says that during this time it took some testing to get the flavors for their new clientele right, overhauling past recipes to match flavors that spoke to the Portland market.
Inés talks about the various fillings and she lifts her sturdy frame over a metal press and squeezes the dough into perfect crescents, encasing a mixture of beef and cheese, "I invented these for Portlanders" she says. In South America the typical fillings are beef and eggs or raisins and olives.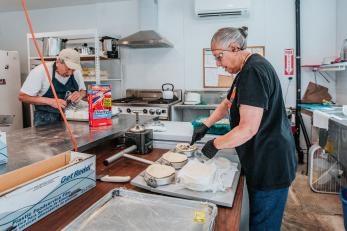 Walter takes a ball of dough from the fridge and works it through a rolling machine over and over until it is thin enough to make a light crust to encase the filling. Inés then takes a cookie cutter like device and cuts tight circles out of the sheet of dough with care, to make the most efficient use of the surface area. The family recently acquired the hand-made Argentinian metal molds that have boosted production. Now they are able make between 400-500 empanadas a day.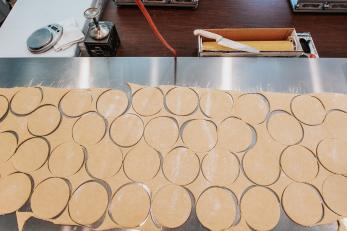 Made for local tastes
Inés describes the empanadas of her childhood. She says that although the culinary tradition came from Spain, immigrants to South America for Lebanon and elsewhere in the Middle East contributed to the cuisine of today. Her mother saved leftovers to stuff inside and her grandmother had a special empanada recipe stuffed with meat and raisins that was sweet and spicy – not something the locals in Portland are accustomed to.
Inés has also made her own adjustments. For example, the dough in Uruguay uses lard to make a flaky, almost pie-like crust. As vegans, they have opted not to use lard and opt for other ingredients, perfecting their crust with new methods to achieve a bread-like texture.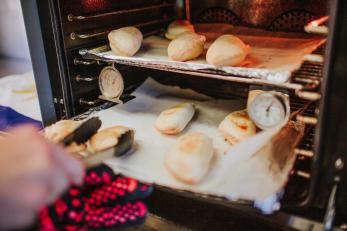 Support from Mercy Corps
"In 2015 we had an accident," says Inés, "we were rear-ended by a truck and we had to start from zero. We sold the house we owned in Worcester and started over. It was a year that shook the ground beneath us."
The family then went all-in, finding Mercy Corps Northwest to support them with a loan to transform their garage into a commercial kitchen and to add some extra funds to replace a food truck lost. They were nervous.
Ines recollects, "It was the first time we got a loan in our life that was not for a house – we were not sure whether we wanted to go ahead with that step or not. We were afraid, but then we thought – well, you have to go ahead and try." At first, they couldn't even get a contractor to come by to give them an estimate.
A family journey
The family looks back on that time as one of the many hurdles on their small business journey. PDX Empanadas is now producing at levels higher than ever before, with a new addition of selling frozen, packaged vegetarian empanadas in the local grocery chain New Seasons. One of the challenges they face now is that their American clientele is looking to buy empanadas that are cooked in the microwave. To embrace the full flavor, their empanadas are crafted to be baked in the oven. "I didn't know Americans would do this, try to microwave everything not to spend time baking," says Inés.
Eventually they want to get approved to handle raw meat. A USDA license is needed for that.
Inés walks through her verdant garden, it seems something is growing in every square inch of the yard. They grow grapes, squash native to Uruguay, fruit trees, artichokes, herbs, they even raise worms for making compost. When she first moved to the United States she helped manage a community garden in Massachusetts, which she reflects fondly on as she weaves through the vines. The oregano and basil they grow in the garden are used to season the empanadas.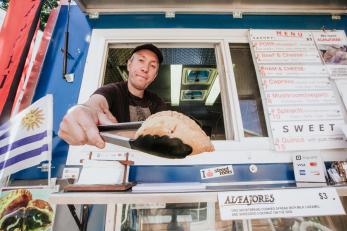 According to Inés, her son Gerardo is the most needed employee. He is responsible for manning the cart on weekends. His role includes doing the baking and dealing with the customers at the market. Recently, they broke their record and sold more than 700 empanadas in a weekend. They have to work hard in the summer to make enough to fill demand. I "bake bake bake" says Gerardo who has perfected his craft for the last decade. He says he is very proud of his parents, and says they work very hard, preparing empanadas for up to 10 hours a day.
Support PDX Empanadas in-person at the Portland Saturday Market or visit them online.
---
Sign up for our newsletter to learn more
Contact the Mercy Corps Northwest team