PAZ Hair Lounge – Nelly Ayala On Building An Inclusive Beauty Salon
From independent contractor to small business owner, Nelly Ayala fulfilled her passion of creating an inclusive beauty salon where clients feel welcome and stylists earn an equitable rate.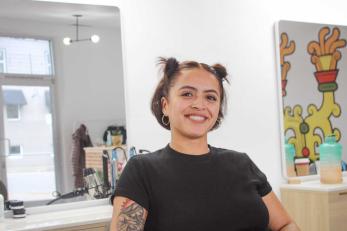 August 16, 2022 • UPDATED December 16, 2022
Born in Portland and raised in Cornelius, Oregon, Nelly Ayala (she/they) was always told by her father to make it a goal in life to be an owner; to create something she could call her own. At a young age, she didn't know what that meant. Over time, her father's job as a construction contractor provided an inspiration and motivation for what was possible, eventually leading her to fulfill her passion. Today, Nelly is the owner of PAZ Hair Lounge that for the past 5 years provided space for stylists and clients to find affinity when safety and security in the workplace felt hard to find.
Raised by a single mom, Nelly didn't have the means to afford a college education. She started her career by working in retail to gain her footing and reflect on the ways in which she wanted to leave her mark on the world. Nelly knew that she wanted to build a business for herself and sought out trade-school opportunities to explore her interests. She eventually enrolled in beauty school and quickly realized she was talented. Even more poignant was the realization that she loved the work at-hand.
After graduating from beauty school, Nelly spent the next five years building her expertise as a stylist working as an independent contractor for different salons in Tigard. She loved working with her clients but had an itching feeling that the work environment didn't feel supportive of her long-term goals.

Nelly wanted to be part of a workplace that would create an inclusive and safe space for all. Despite her experience working at different salons, she had yet to find a place that truly felt like home.

Nelly remembered the advice her father once shared with her and began to cultivate the idea for opening her own beauty lounge that would offer a safe, BIPOC-friendly, and gender-inclusive environment.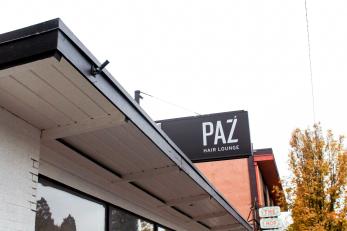 In July of 2017, Nelly's passion project, 'PAZ' Hair Lounge was born as tribute to her father of the same name. The lounge vows to offer a sanctuary – one that compliments the business' name of 'paz' meaning 'peace' in Spanish – for all who enter.

When Nelly opened her salon she know it was important for her to create a structure that would provide an equitable pay rate for stylists and barbers. "I found it essential to how we operate as a team and for our community," shares Nelly.
Community is a big part of what makes PAZ such an inviting space for the contractors and clients they serve. The space itself is comfortable, laid-back, and promotes an open dialogue between clients because they feel safe, free to open up and be themselves. Customers often reflect on the feeling of finally finding something special, often sharing: 'It took me so long to find a place like this' notes Nelly.  
PAZ saw increasing success before the pandemic, with 2019 being their most profitable year of operation. In 2020, as the pandemic loomed, Nelly knew it was important to seek out resources that would help the lounge survive impending financial hardships. Even more critical was Nelly's desire to retain the space that had offered so many a newfound space of belonging
Nelly began exploring local resources that could help her to keep her business afloat. While enrolled in a partner's business education course, she learned about the Oregon Women's Business Center and the services offered through Mercy Corps Northwest.

"I knew I needed more support and business education," shares Nelly.

Nelly spent time researching through programs and signed up for the twice-monthly MCNW newsletter that offered her insight about the Oregon IDA program and business education courses that were currently being offered.

"I applied and got into the IDA program on my first try! That was right before the pandemic. I started the courses but then had to stop during the shutdown," says Nelly. 
 In spite of the delay, Nelly is now glad about the extended timeline the pandemic added to completing her small business education courses required as part of the program.

"We had to restructure so many times after the pandemic. It was like, 'What do I do now?' The additional time I had forced me to sit down and figure out what the next step was, what my plan was going to be," she shares. 
During her six-week Business Foundations I class she received guidance for developing a strong business model. Business planning proved especially important for Nelly during the pandemic while the economic climate seemed ever-changing. Nelly was able to update her long-term plans for PAZ, while also enrolling in free financial and credit seminars that helped her to seek out funding opportunities to keep her business thriving.
The most impactful piece of learning for her was diving into the financials. "Financials are so easy to ignore when looking at the overall big picture," says Nelly. The courses provided her with in-depth knowledge about cash flow, and profit and loss statements, which proved vital in evaluating the day-to-day successes and areas for improvement behind her enterprise. 
Once she completed her courses in 2022, Nelly became the proud recipient of her combined $6,000 matched-savings grant from the Oregon IDA program.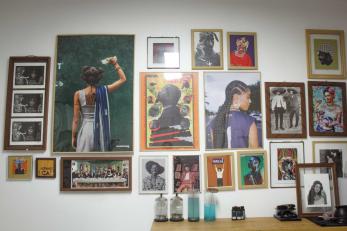 In March of 2022, Nelly relocated to a larger space in central northeast Portland that provided more visibility and a higher frequency of walk-in traffic. Her next plan is to get PAZ to a place where it can run itself so that she can spend more time with her daughter. In the new year, her plans include spending time doing crafts with her kid and indulging in her personal hobbies of writing, cooking, and pottery. 
"I'm a jack-of-all-trades kind of person. I want to try it all, even if I'm not good at it," shares Nelly.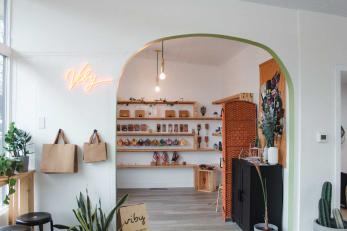 In addition to PAZ, Nelly is continuing her entrepreneurial journey as the co-owner of an e-commerce platform called Viby. She and her business partner created the platform to exclusively support and carry products owned by BIPOC entrepreneurs. It began with hair products but may soon include skincare and household products.

"Our clients, especially with textured hair, were specifically asking if there were any black-owned products that we recommended. It was a constant question," says Nelly.

Her platform Vibyy.com helped to answer these questions by creating a platform of BIPOC-owned brands so clients don't have to do the research. You can support Nelly by visititing PAZ Hair Lounge and her pop-up for Viby by visiting her store in person or booking an appointment online here.

Interested in learning more about small business offerings? Enroll in Mercy Corps Northwest's education classes here.
Sign up for our newsletter to learn more
Contact the Mercy Corps Northwest team