Meet Lily-Rygh Glen: The force behind Portland's Flexible Fitness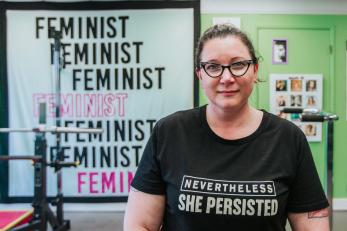 November 06, 2019
It's impossible to walk into Lily-Rygh Glen's Flexible Fitness studio without feeling a jolt of energy. The word "Badass" is prominently featured on the back wall atop a soothing shade of mint green. As Lily-Rygh makes you do crunches, planks, and lunges, witty exercise quotes graze the walls – helping to re-write dated narratives in the mind of anyone who enters.
Clients can bring their own music to their work-out, but a Prince playlist is always handy in case they forget. The mirrors and front windows have curtains, so clients can have privacy from their own eyes and others as Lily-Rygh "Kicks your ass, but cradles you heart," as the gym motto reads.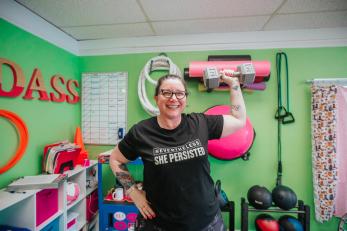 From academia to personal training
Lily-Rygh is a self-described burnt-out academic. Her first career she was an English Literature professor. She was raised in a family that prioritized books over sports, which "were for people who weren't smart enough to read."
In 2010, when her mother was diagnosed with stage four cancer, she began examining her family's medical history. Learning of cancer, heart disease, alcoholism, drug addiction, diabetes, and early deaths was unsettling. She had an epiphany of sorts and emerged from the sorrow of losing her mother with determination. She started working out with a personal trainer, and eventually became one herself.
Today, she is also a yoga instructor, wingwoman, and the kind of trainer who goes to trampoline parks with her clients when they are too shy to go on their own.
Improving relationships with food
Lily-Rygh recently completed a certification as a nutrition counselor so she can help clients improve their relationships with food. She emphasizes food is morally neutral, there is no such thing as good food or bad food, "Some food is more nutritionally dense, but that there is no moral value in food and there is no moral value in you based on what food you ate."
Her goal is to help people remove the stigma around eating, "Especially for people in fat bodies. It doesn't matter what you eat, if you are in public and you are a fat person and you are eating, there is a risk there. I'm hoping to eliminate some of that through the training."
She points out that the success of diets is a measly 3%. The diet industry is built on a failure rate of 97%. She asks, "Why would I want to take part in that? If I was a doctor, I would never dream of prescribing a pill that only worked three percent of the time. Especially if the side effects of that pill were worse than the disease the pill was designed to cure."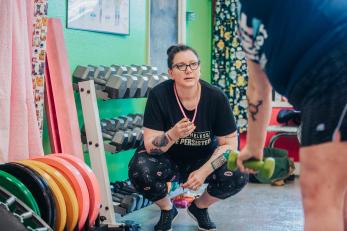 A focus on positive body image
Lily-Rygh faces challenges, even criticism daily for her body-positive work. She jokes, "If I had a dollar for every time I was told I was glorifying obesity, I could buy a 24 Hour Fitness." When she meets people and tells them she is a personal trainer she is often scrutinized.
"There is a sense that in this industry, you are supposed to look like Jillian Michaels, and if you don't you're a fraud. When to my thinking, Jillian Michaels is the fraud. She's the one who is not treating people's bodies with respect!" she clarifies.
"You'd be hard-pressed to find a community that needs a place to work their bodies more than fat people. They want to feel strong in their bodies just like thin people do," she asserts. "If you weigh 450 pounds, your muscles are carrying 450 pounds every day. You are going to have quads of steel just from moving around your own body."
Business support from Mercy Corps Northwest
As a businesswoman Lily-Rygh says that it's been a bumpy road. Her best advice would be to do as much homework as possible. "For me, that meant taking classes through Mercy Corps Northwest and really making sure I had my ducks in a row."
Through the classes, she learned obscure yet critical details about running a business such as getting a permit for a sandwich board, and budgeting for a fire inspector. "I was so busy mentally decorating my space, I never would have thought of any of those things had I not done those classes."
"I learned the most important thing was being able to look in the mirror and see someone whose politics and social values aligned with her paycheck," she adds, "I realized that I could never go back to working jobs that didn't mean anything to me and didn't do anything to support what I think is culturally important."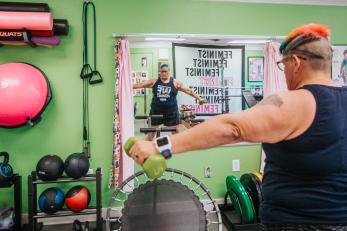 With a combination of education and a small business loan from Mercy Corps Northwest, Flexible Fitness is an up-and-running studio with a full set of clients who loyally return for their workouts.
Lily-Rygh points to a large wall hanging with the words "Feminist" written in an exclamatory pattern. She says she didn't realize it was quite as big when she bought it – but it seemed appropriate – so she kept it.
To learn more about Flexible Fitness click here.
---
Sign up for our newsletter to learn more
Contact the Mercy Corps Northwest team