VISTA stories – Mallory Smith and the Tananáwit market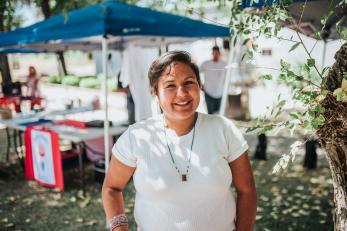 August 02, 2019
Nestled under the shade of a few large trees, the blue canopies of the Tananáwit Outdoor Market line the street. Every other Friday, the Warm Springs Community Action Team (WSCAT) provides a space for artisans, farmers, vendors, and local organizations to get together and share their wares with the community.
In Ichishkiin, Tananáwit means "our people." The people of Warm Springs have a community uniquely their own; where Native art and culture are celebrated, neighbors know each other, and there's always fresh fruit to go around.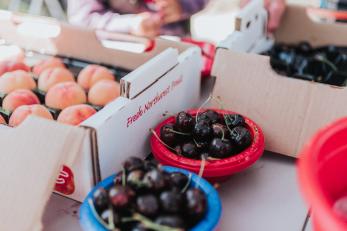 Tananáwit started as a co-op of local artists and grew into a partnership with WSCAT, who assists with the organizing and promotion of the Outdoor Market. The home base for both organizations is located in the Warm Springs Chamber of Commerce; a building that sits just behind the market.
Mallory, an AmeriCorps VISTA originally from Warm Springs, serves WSCAT as a Community Development Specialist. Formerly a preschool teacher, Mallory loved the idea of working for a nonprofit that supports the area she grew up in. As a part of WSCAT, Mallory was able to follow her passion for working with youth while developing relationships with small business owners, artisans, and citizens of Warm Springs.
"Eventually, I want to start my own nonprofit. I think about one day coming back and starting work with youth programs," she shares. "I always think of that one saying 'be that person you needed as a child.' That's what I want to do."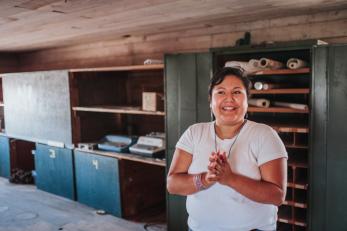 The future holds a lot of potential for WSCAT. A short walk away from where the headquarters and Outdoor Market are currently located stands a building destined to house WSCAT, Tananáwit, and an expanded Small Business Incubator. Over 100 years old, this is the oldest structure in Warm Springs. An aspect of transforming this space includes the installation of exterior murals by local artists. After remnants from the Fisheries Department and other organizations are removed from the space, the first floor will host Warm Springs small businesses while the second floor will be converted to offices.
With more room and a historic part of Warm Springs to call their own, WSCAT aims to increase its operations to support economic and business development within the community.
Opening a business on the reservation can be a challenge, but WSCAT is committed to finding solutions. For Tananáwit, part of the solution includes finding Individual Development Accounts (IDA) grants for local artists to be able to get their work into galleries. Other obstacles like transportation shouldn't be a barrier to artists sharing their work, so Tananáwit provides rides and gas cards.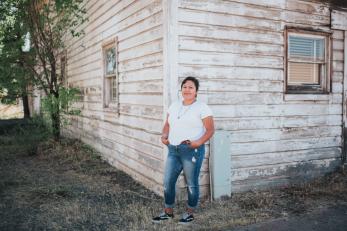 Outside at the market, it's evident that the number of small businesses in Warm Springs is growing, and backed by a community that supports them. Each blue tent is filled with handmade goods, works of art, and carefully grown produce.
Mallory, WSCAT, and Tananáwit work to make it known that Warm Springs is open for business. Situated in a major traffic artery for those traveling along Highway 26, Warm Springs is destined to be a place for people and businesses to gather – the only issue is getting the word out.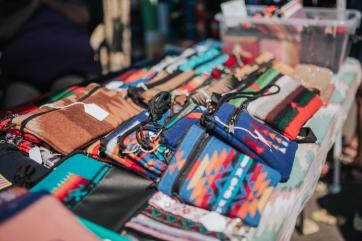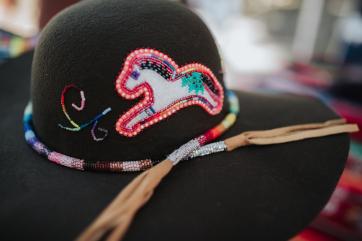 As Mallory illustrates, "Warm Springs has so much potential – we're like a blank canvas and all we have to do is add our ideas to make it a masterpiece."
Mallory's service ended in August of 2019. To learn more about our AmeriCorps VISTA program, or to get involved, visit our program page.