In the community – M&M Marketplace + Pollos Aguilar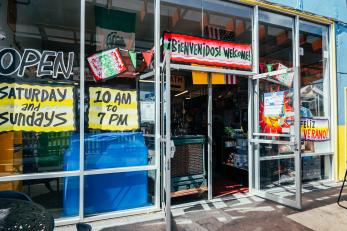 November 17, 2021 • UPDATED January 18, 2022
M&M Marketplace is an incubator space unlike any in the Portland Metro Area. Located in Hillsboro, the market is neatly tucked off a quiet side street next to a large indoor soccer complex. The market spans an area the size of a large warehouse – but is adorned with tropical plants, vibrant window designs and the sounds of uplifting Ranchero music. Upon entering, visitors are immediately transported into a market space reminiscent of many found across Latin America; booths line the market's indoor space in every direction with signs for Salvadorian foods, Guatemalan textiles, and flavors specific to state across Mexico including Oaxaca, Sinaloa, and Yucatan.
In October of 2000, M&M Marketplace was founded by Jaime Miranda as a means to fill his father's goal of starting a small business. 
"I was in school and my dad asked me to come and help him find a business to start. But when I was trying to find a business for him I also started looking at how many other people were interested in business…and how many other people were struggling to start a business," shares Jaime. 
It was with this passion – and support from his sister – that he began exploring the idea of a shared business space. As Jaime spent time with the concept, he learned that many migrants and other workers who had the passion to start a business were not able to find an approachable space to open their shop. Many of these soon-to-be vendors were backed by years of experience in a trade or passion – including engineers with degrees from Mexico – patiently working in other trades while itching to venture off on their own.
Once M&M Marketplace launched, the Miranda family unlocked access to a tangible and approachable path for predominantly Latinx/e and Hispanic community members to explore their business ideas. 
Today, twenty-two years after the market first opened, over 60 vendors proudly operate stores in the space. "There are benefits of being a weekend market because we've really created opportunities for people to explore," says Jaime. The market has created a haven for weekend hobbyists and passionate markers to grow. In the market's tenure, it's seen business owners graduate into larger spaces, others grow into multiple market booths, and even offered the space for many to temporarily enjoy the market before releasing space for a friend or coworker to test out.
No matter the path each entrepreneur takes, Jaime sees it as a success.
The market has more value than financial value. It has moral and emotional value because you're actually creating opportunities for other people.

Jaime Miranda,

Founder, M&M Marketplace
Supporting vendors through COVID-19
The marketplace applied for city a permit when COVID-19 hit to move vendors outside and keep the market afloat. During this same time, many vendors found themselves amidst the hurdles of operating within an entirely new business landscape and in search of additional support.
"We ended up working with Mercy Corps Northwest because we realized that many of our vendors needed help. Some licenses were expiring, others were missing certain compliance features, and businesses were looking for support," shares Jaime.  Mercy Corps Northwest and M&M Marketplace formed a team to develop training for those who were in need of added support.
One of the businesses to enroll in the course was Pollos Aguilar, a beloved Mexican catering and pop-up restaurant owned and operated by husband and wife duo Elvia Arjon and Raymundo Aguilar.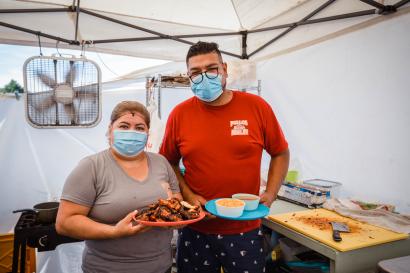 Pollos Aguilar is a successful chicken-centric Mexican grill that prides itself in its charcoal cooking technique. You can find their shop at Hillsboro's Tuesday Night Market, catering private events, and on Saturdays and Sundays at M&M Marketplace. Their business idea was one that grew out of natural talent and bold curiosity. 
"We started cooking by accident, you could say," shares Elvia the co-owner of Pollos Aguilar. 

"We were going to do a party for my family member but on the day of the event, they were sick. There was no place to hold the party and we were not sure what to do with all the food we had made. I told my husband, Raymundo, that we could try to get on Facebook marketplace to sell the food – which is when we learned about the market," she shares.
The first time Elvia and Raymundo tested their recipes at the M&M Marketplace they arrived skeptically. To their surprise, the first day they sold out of everything they prepared for the event. 
The model of a weekend market worked well for Pollos Aguilar because the commitment was able to be sustained little by little. As Jaime intended, the weekend model afforded them the ability to scale slowly and experiment with different models for their business.
Now, Pollos Aguilar is happily entering into its second year of business. While their transition into business owner was serendipitous – it left them learning on the fly.
When Raymundo and Elvia learned about Mercy Corps Northwest Business Foundations I class offered in partnership with M&M Marketplace and Mercy Corps Northwest they were intrigued and enrolled for tips for their early-stage enterprise. In the 6-week course they learned valuable skills including the importance of separating business and personal finances – and grew upon their previously honed knowledge of managing business operations.
"We'd recommend the class to people who are just starting their business because it helped a lot," shares Raymundo. As a result of their hard work, Pollos Aguilar is set to open a new location in Cornelius, Oregon in 2022 as soon as their permits are accepted.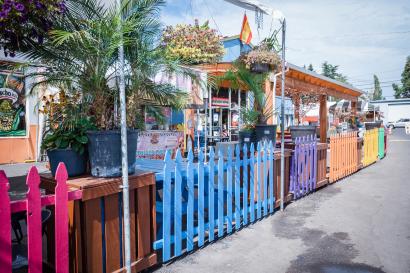 The growth and success of businesses like Pollos Aguilar are a testament to the Miranda family's vision – one that looked to both build a business and a vibrant community around it. Jaime's message is clear: "It's always been about how can you create opportunities for other people who are looking for them." 
Despite the setbacks of COVID-19 Jaime believes that his community is resilient. He believes that with support from partners in the area, M&M Marketplace will continue toward the next decade of success to come.
You can visit M&M Marketplace online here and in-person on Saturdays & Sundays. To order from Pollos Aguilar, and to learn more about their delicious chicken dishes, visit PollosAguilar.com. 
Sign up for our newsletter to learn more
Contact the Mercy Corps Northwest team