Regina Morgan put her faith in hair braiding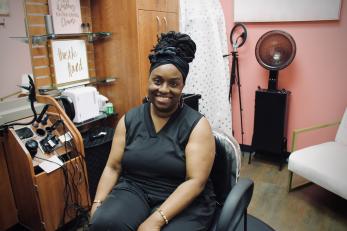 February 01, 2022
One day, Regina Morgan's husband asked her an important question: "If you could do anything for work and money wasn't a factor, what would you do?" The first and only thing that came to Regina's mind was doing hair.
From working in the natural gas industry to braiding natural hair, Regina made a faith-based decision to leave her job, move her family from Tulsa, Oklahoma to the Pacific Northwest and eventually, pursue her hobby of braiding people's hair as a full-time business, known today as 10:30 Braiding and Natural Hair Design.
Growing up as one of five children, Regina taught herself how to braid hair at five years old, learning first on her Cabbage Patch Kids dolls to then graduating to a human doll – her baby sister. Regina's mother would supervise her work and share pointers on how to improve. Once Regina proved she had adequate skills, her mother was relieved to get Regina's help, as she had four daughters' and one son's hair to style every day.
"My passion for braiding was always there," Regina said. "I grew up helping my mom out, then I started watching YouTube videos all the time and knew I could do the styles I saw. I just needed people to practice on. Hair braiding is just second nature for me. And natural hair specifically is so diverse and fun to work on since you can do anything to it. There are so many types of braids."
Regina continued to braid hair for friends and family while she studied at Tulsa Community College and Northeastern State University, earning degrees in psychology and business administration. She then began an apprenticeship with a natural gas corporation and ultimately became a full-time employee, despite being six months pregnant and having gone into false labor during the job interview.
On a personal level, the now-mother of four children—aged between 13 and 21 years old—held onto her faith throughout her life choices and even served on her church's Praise and Worship team. Regina constantly listened to her gut before making a move and often acted on revelations she believed she received from a higher being.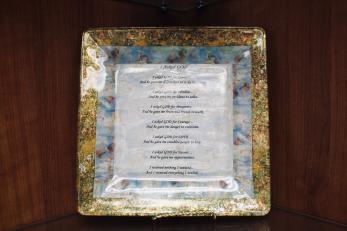 "All of a sudden, I started feeling like I had a heavy burden on my shoulders like something big was coming," Regina said. "I felt like the Holy Spirit was telling me to step down from the Praise and Worship team at church, and it didn't make sense to me, but I did it. The moment I stepped down, things started revealing themselves to me."
Through fasting and praying, Regina saw a vision in her sleep one night, signaling to her that it was time to leave Oklahoma and start fresh elsewhere. Regina's husband also felt unsettled, and together, they made the decision to move to Portland, Oregon.
A few years prior, Regina's husband was the director of a homeless shelter and needed to visit Seattle, Washington for a conference. Regina joined him on the trip, and during their stay, they drove down to Portland. Having visited in June during the Rose Festival, the Morgans fell in love with the City of Roses and kept it in mind as a potential future place to live.
In 2017, their move came into fruition. Regina, her husband and their family boarded their flight to Portland with only an Airbnb booked. Since they had trouble virtually purchasing a home from Tulsa, they planned to meet with their housing contacts in person and secure something before their car and belongings arrived in two weeks' time.
The only home available to them was located across the river in Vancouver, Washington. Believing everything happens for a reason, the Morgans signed for the house that they continue to live in today.
As they began to settle into their West Coast home, Regina's husband asked her the life-changing question that led her to start her own business.
"He said to me, 'On faith, why don't we buy a salon chair, put it in the garage, and you just try your hand at braiding hair,'" Regina said of her husband.
The only piece to the passion-pursuit project that was missing was a clientele.
Not knowing anyone in the area, the Morgans noticed one of their neighbors was a Black woman with braids. Regina reluctantly walked down the street one day to the woman's house, knocked on her door and offered free braiding sessions to her and her family to help Regina practice her skills. The woman had two daughters with natural hair who were in need of box braids, and with that, Regina booked her first pair of clients in Vancouver.
"The business really took off from there," Regina said. "I took pictures of those two box braids and posted them on social media, added on hashtags, and then prepared the business as if it was already established."
One of the easiest parts to legitimizing her business was naming it. Regina was inspired by the Bible verse, Matthew 10:30, which reads, "And even the very hair of your head are all numbered."
"If the higher power – which in my case is God – He knows every hair on our head, and He considers us to be valuable, then that's how I want my clients to feel," Regina said. "When they come in, I want them to feel comfortable, and when they leave and look in the mirror, I want them to feel valued. I want them to know that I cared for every hair on their head."
Regina registered her business as 10:30 Braiding, developed a website and social media channels, and printed business cards to disperse around town at local beauty supply stores and salons. From the beginning, her services included braiding, installing extensions and creating locs.
Word traveled quickly about 10:30 Braiding, which Regina credits to "mom groups" on social media – often Facebook Groups that have local mothers as members who share recommendations with one another, her physical marketing materials and pure word of mouth.
"A lot of people – African American and mixed race – tell me there weren't a lot of options for hair braiding available in Vancouver years ago," Regina said. "Being able to be one of those stylists here that offers a niche service helps the community to feel confident in themselves, to rock their natural hair, to love it and to be free to be themselves."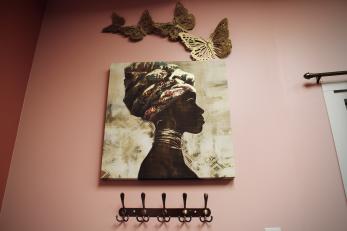 In addition to starting the salon, Regina and her family got involved with a Northeast Portland church, where her husband serves as a pastor. Their place of worship also houses their nonprofit, the Naturally Beautiful Project, recently registered as a 501(c)(3) organization. On Mondays and Tuesdays from 9:30 a.m. to 6:30 p.m., Regina does children's hair at the church at no cost.
"Everything since starting this business has been a natural progression of growth," Regina said of 10:30 Braiding and expanding into the Naturally Beautiful Project.
Regina worked a steady six days a week at the two locations, but on March 14, 2020, she was forced to close her garage door due to COVID‑19. With her business on pause and the church closed, Regina and her husband relied on their savings to help them endure the next few months.
"If I'm not working, I'm not getting paid. Period," Regina said. "There's no vacation time. There's no PTO. I'm an entrepreneur, so we have to plan for ourselves. COVID made things very tight."
By June, Regina was ready to safely see some of her clients again, but she didn't feel comfortable working out of her garage anymore. She felt it was best to move into a formal studio away from her family to keep work and home separate, and to minimize any chance of spreading disease.
Regina found the perfect solution in Sola Salon Studios, a national company that provides beauty professionals with high-end, fully equipped salon studios, coupled with other resources needed to launch a salon business.
Once the 10:30 Braiding sign went up at the Vancouver location, Regina applied for several small business grants to help boost her fresh start at Sola. She was turned down by every grant she applied for, until she submitted an application for Mercy Corps Northwest's COVID Small Business Relief Grant. This program aimed to support small business owners in the Pacific Northwest who were hard-hit from pandemic closures like Regina.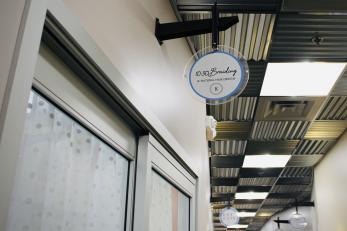 "Everything is about listening and obedience," Regina said. "A friend of mine and client during the pandemic sent me the Mercy Corps grant opportunity. I applied and received a little bit more funding than I had initially asked for, giving me some capital that I had never had before."
The grant helped Regina put money aside for rent, purchase extra capes and towels and stock up on COVID‑19-related supplies, such as a contactless thermometer, gallons of hand sanitizer, face masks and extra-strength laundry detergent. Since the pandemic, Regina tripled the number of times she does laundry in a week and sanitizes her salon after every client.
Regina returned to working nine-hour days, 10 a.m. to 7 p.m., averaging four customers a day depending on the hairstyles, which can take anywhere from 30 minutes to up to six hours to complete. Clients come to 10:30 Braiding for everything from everyday styles to wedding 'dos to low-maintenance, vacation-ready designs.
"Now that I'm back up and running, I'm turning so many people away," Regina said. "I unfortunately can't get to everyone. I get 10-15 calls a day for people who want to get in with an appointment."
Regina enlisted her 18-year-old daughter to help her at the studio now that business has picked up. She helps take supply inventory, run the 10:30 Braiding social channels and research what expansion could look like in the future.
Moving into a larger location would be ideal for Regina who envisions a four-space studio, where four stylists could work comfortably.
"I would really like to add stylists to the business who are just getting started professionally, because I know how important a safe space was for me at first, but I had to create that space for myself," Regina said. "I want to be able to give them the opportunity to come in and have a nice place to start out at."
10:30 Braiding and Natural Hair Design is located at Sola Salon Studios at 13875 SE Mill Plain Blvd, Vancouver, Washington. More information, including how to book salon services, can be found at www.1030braiding.com/services and on Instagram. As for the Naturally Beautiful Project, more information and booking can be found at www.naturallybeautifulproject.com and on Instagram.
---
Sign up for our newsletter to learn more
Contact the Mercy Corps Northwest team