Your Guide To Building An Eco-Friendly Small Business
Explore our tips for growing an environmentally, socially and financially sustainable small business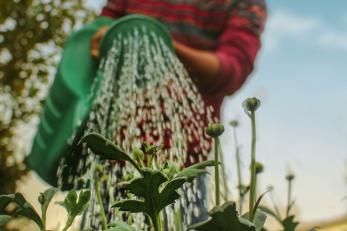 April 11, 2022
Small businesses often lead the charge when it comes to keeping local and sustainable practices at the forefront. Entrepreneurs are known to work with one another, source and sell products to those in their same city, and collectively keep other small businesses thriving. But not all small businesses have a plan for how to operate in a sustainable and climate-smart manner. In honor of April's Earth Month, we're sharing some of our best tips for how you can support sustainable business models at any stage of your business' growth.
Develop a small business sustainability plan
Let's face it: Some businesses are naturally better suited to have a smaller eco-footprint on the community around them. Despite this, there are clear steps that all businesses can make to adopt green operating models. We recommend creating a plan to get you started. A sustainability plan loosely translates to a plan for "financial, societal and environmental sustainability." We see these as the three pillars that ensure your company is doing good for the people and planet – while remaining financially sustainable. Just like developing a business plan for general operations, a sustainability plan can be viewed as a roadmap that influences business decisions and keeps all aspects of operations aligned. 
Look for grants that reward eco-friendly operations
One of the most common reasons businesses opt out of sustainable alternatives is due to cost. A switch from plastic to paper may add a surcharge to your product, and committing to donate proceeds to a charity takes a slice out of the bottom line. A great way to plan for changes in cost is to look for grant opportunities that support the innovation that you're looking to implement. This includes programs like Fashion For Good, conservation grants, grants for green entrepreneurs, and eco-focused federal funds.
Keep products, resources and operations local
Small businesses know how to keep products local and support regional communities. We believe that there are endless ways in which entrepreneurs can innovate to support sustainability. For example, if you're a remote consulting group, choose one day a week where you encourage teammates and clients to work remotely, ride bikes to meetings, or take the bus. 
Business sustainability can also be achieved by taking small steps like using eco-friendly packaging or selling products directly to your consumers at local markets and shops to limit shipping emissions and the need for additional freight packaging. 
When we source local, shop local, and support local – we're making an intentional difference to support the environment and financial sustainability of our neighbors. 
Consider a mission-oriented model
Not all businesses focus on solving a social or environmental issue, but all businesses have the potential to take a mission-oriented pledge to support their favorite cause. In fact, mission-oriented businesses retain staff at 40 percent higher rates and grow three times faster than competing companies. Mission-oriented models can also be relatively simple – entrepreneurs can focus on donating a share of profit from all sales down to a single product or service to a cause they care about. Business owners can also operationalize environmental commitments by instituting circular economy approaches that allow customers to recycle excess packaging through organizations like Terracycle. If you're looking to create an even larger impact, you can also consider transitioning to a B Corp business model to support an inclusive and regenerative economic structure.
Create a ripple effect
No matter the approach you take, it is essential that you share and encourage others in your community to take a pledge. If you are taking a step to be more environmentally conscious – share it with your network. If you're opting to switch to a mission-driven model, be sure to tell your small business circle about your approach. Knowledge is power when it comes to sustainability practices; there is plenty to go around and even more to be learned. Ready to get started? Join us by exploring some of our eco-friendly role models like Pacific Northwest-based Torrain Recycled Bags to national innovators like Blueland.

Learn more about Mercy Corps Northwest's business development services in your area under the Where We Work drop-down menu.
Sign up for our newsletter to learn more
Contact the Mercy Corps Northwest team