Gathering and growing – Agape In Home Care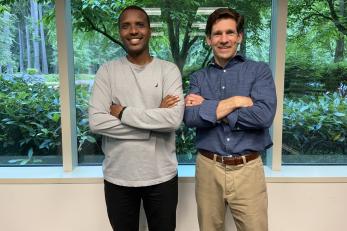 January 11, 2021
Tim Cooke has worked as an entrepreneur throughout his life – continuing in the steps of his family. For many small business owners, like Tim, the calling of entrepreneurship is a rewarding path: it offers the ability to write your own path to success, craft it from the ground up, and revel in the excitement of building your dream.
But like many entrepreneurs, he found himself at a crossroads – yearning to explore something new but not quite sure where to start. His goal was to explore a new venture that would bring him fulfillment, and align with his passion for 'aligning economic, social and spiritual capital'.
In 2018, Tim attended a networking meeting in Bellevue, Washington centered around business and faith. The goal of the meeting was to gather locals for connection, conversation and the hopeful opportunity of creating synergy between the two. The day would prove to offer just that.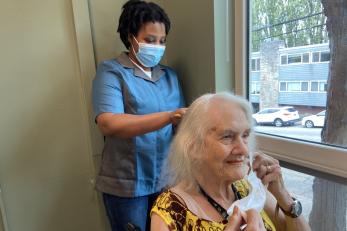 Starting their journey
Alexis Ruhumuriza was also headed to the Kiros networking meeting on the same day to make his own connections. During his five years in Seattle as a pastor, he'd helped many people — including refugees like him — find a job. His path to the meeting stemmed from a different journey to entrepreneurship. In 2015, Alexis and his family had to leave their home country of Rwanda. When an opportunity to come to the United States as refugees and build a new future offered a solution – they found themselves living in a new surrounding in the Seattle area.
When he and Tim Cooke met that day, it was the first step along the journey to build Agape In Home Care.
Both Alexis and Tim we're excited about building a company that would serve the community twofold – offering skills and opportunity to some and much needed support for others. The two focused on those who are under-employed to not only provide jobs but to also nurture a path to achieve dreams.
Alexis dwelled upon his experience working with asylum seekers and other migrants who frequently face a dilemma upon continuing their careers in the United States. Despite the fact that many migrants arrive in the United States as practicing professionals – accountants, nurses, teachers and more – barriers in transferring certifications make them unable to continue on their chosen career path.
The vision cleared as the two sought to tackle this problem head-on.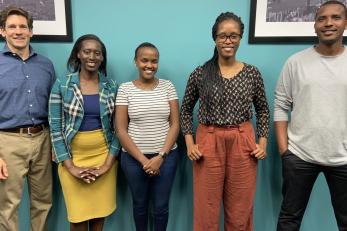 Support from Mercy Corps Northwest
Agape In Home Care was soon built around a goal of maintaining the wellbeing of clients and employees simultaneously by offering needed in-home care for families and career development opportunities for staff caregivers.  Leading with Alexis' network and experience working with migrants and refugees – the skillset of tending to families, communities, and others was a perfect match.
Tim and Alexis then came to Mercy Corps Northwest to get an alternative loan that would help their business start its operation. They planned to hire five employees, offer Home Care Aide Certification, and begin the process of finding clients that met their needs. They secured just over $10,000 that helped them get the licensing and insurance they needed to take the next step.
As part of their vision to uplift the community, they created The Agape Vision Fund that caregivers could use for qualified purposes such as returning to school, paying for certification tests, sending their children to school or purchasing their first home.
Home service from Seattle to Spokane
Their practice took flight, starting with their first caregiver, Chantal.
Chantal began her caregiving career in 2008 by caring for her diabetic mother for three years. She started with Agape In Home Care to fulfill her passion for helping others.
Like many skilled migrants, Chantal holds credentials from Rwanda in accounting but is unable to practice in the U.S. as she needs additional credentials. With help from The Agape Vision fund, she has continued to work with the elderly and disabled while pursuing her second degree in Accounting.
Along the way Chantal earned, a C.P.R certification, her C.N.A. license, a Dementia Care Certification, and a Diabetes Care Certification.
Like Chantal, other talented caregivers are continuing to tend to clients as COVID‑19 has added additional barriers for families and their loved ones. "We have a saying at Agape, 'It's not just a job, it's a journey!'" shares Tim.
Today, the team works hand-in-hand to support one another from driving caregivers to work when duty calls, to helping them achieve dreams that may lead them beyond their current role.
Above all, their faith remains their guiding post as the future of their business continues to flourish.
Agape In Home care offers in-home care, drop-in visits, companion support and more from Seattle to Spokane. You can learn more about their vision at agapeihc.com